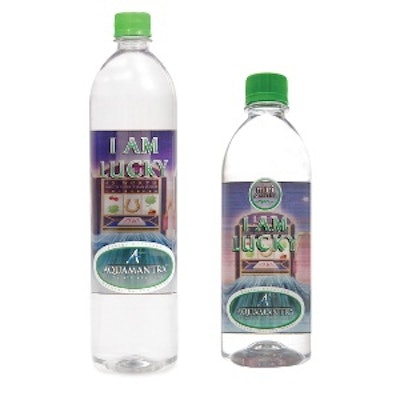 In the ongoing quest to find the greenest packaging for bottled water, Aquamantra of Dana Point, CA, will become the first company to launch a water product in new "100% biodegradable-recyclable" material from Enso Bottles, LLC (http://ensobottles.com). Offering premium, natural spring water labeled with "soul-stimulating" affirmations, such as "I Am Healthy" and "I Am Loved," Aquamantra chose the Enso bottle to complement its socially conscious brand, which donates portions of each sale to children's charities.
Says Aquamantra founder and president Alexandra Teklak, "Aquamantra strongly believes that consumers are entitled to choices as to what water they want to drink, which should include easy opportunities to be earth-friendly. I didn't want to find just any solution, I wanted to find a solution that worked for everyone," she says.
According to Enso, the Aquamantra Enso bottle does not leach plastic, is not made from PLA, and is not oxo-degradable. It is a U.S. Food & Drug Administration-approved food-grade PET 1 bottle that maintains the same properties as traditional PET and can be intermingled with standard PET in recycling streams and programs. Enso's technology consists of organic compounds that are added during extrusion of the PET resin, just ahead of injection molding. The organic compounds include two agents: a swelling agent and a microbial attractant. The swelling agent causes the PET molecular chains to expand and break, while the attractant causes microbes to be drawn to the material. When the bottle ends up in a microbial landfill—as 80% of them do, Enso notes—it will break down within one to five years into inert biomass and biogas through either an anaerobic (no oxygen, no light) or aerobic decomposition.
Enso says its bottles are validated through third-party ASTM Intl. (www.astm.org) standard tests.
When contacted by Packaging World for feedback on the validity of Enso's claims for its 100% biodegradable-recyclable material, Steve Mojo, executive director of the Biodegradable Products Institute (BPI, www.bpiworld.org), said neither he nor BPI scientific chair Dr. Ramani Narayan have seen data yet to support these claims.

The Aquamantra Enso bottle will launch in May 2009.
Companies in this article