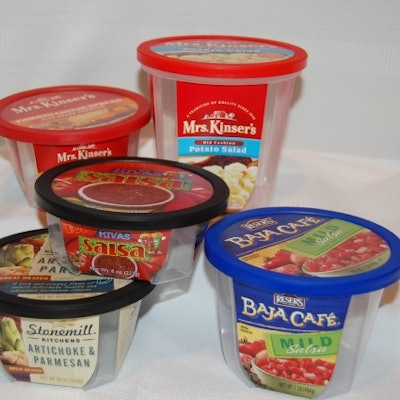 The Packaging Machinery Manufacturers Institute (PMM, www.pmmi.org) invites exhibitors yearly to submit their most innovative packages to be voted on by Pack Expo attendees. Attendees choose the packages they feel best illustrate new and fresh concepts, products, and processes in packaging.

Chosen from a record field of almost 70 entries, the 13 Pack Expo Selects 2008 finalists will be on display at Pack Expo Intl. in The Showcase of Packaging Innovations™, sponsored by The Dow Chemical Co. and located in the Lower Lakeside Center. Pack Expo is slated for Chicago's McCormick Place Nov. 9 to 13.

Attendees can vote for their favorite entries using the My Pack Expo kiosks located throughout the show.

All entries were developed, produced, and/or executed by Pack Expo exhibitors within the last 12 months. Here are the finalists:

QLine IML Scround Containers
Submitted by Airlite Plastics Co. (Pack Expo Booth E-9134)
The unique square and round "scround" shape, with its round opening, will work with current 410-dia filling equipment. The heat-sealable containers offer three- or five-sided in-mold labeling (IML) options in several substrates--clarified or colored polypropylene for the lids and containers--for a different look on retail shelves.

Patch Perfect
Submitted by Ampac Flexibles (Booth S-2937)
The flexible ShakerPak pouch replaces a rigid canister for seeds and chemicals. The dispensing system is built into the pouch and only dispenses if the package is shaken; a reclosing feature allows for multiple applications. Benefits of the pouch include reduced shipping, storage, and handling costs because of its flat format. For the consumer, it eliminates the need for a lawn and garden spreader and personal handling of the chemicals.

BRE (Ball Resealable End)
Submitted by Ball Corp. (Booth E-9101)
The Ball Resealable End (BRE) is an aluminum can end with an integrated flat, plastic opening mechanism. A simple rotating movement uncovers the opening. The BRE is the world's first resealable can and makes it possible to reseal a beverage can without losing the benefits of a can, which include stacking, vending, shelf life, and recycling. Cans with the BRE are tamper-resistant, and consumers can easily verify that the seal has not been broken.

M&M® Premiums
Submitted by Bosch Packaging Technology (Booth S-1230)
Form-fill-seal pouch is die cut and fitted with pressure-sensitive label that serves as a peel-to-open and push-to-close opening for upscale confections targeting female consumers.

DDF Discoloration
Submitted by Catalent Pharma Solutions (Booth E-9223)
Catalent Pharma Solutions is a global provider of the topical delivery product DelPouch®, which Procter & Gamble has used in the packaging of its DDF Discoloration package. The self-contained, patented, unit-dose delivery system has a single-use sanitary dispensing design that consists of a small squeeze pouch with an attached foam applicator for precision dosing of lotions, creams, or ointments. Only the foam pad comes in contact with the treatment area. Available in 1/2- or 1-g applications, DelPouch is patent-protected until 2017.

Kids Organics
Submitted by CPT Go Green (Booth E-9307)
Go Green proprietary thermoforming technology produces the register-printed trays, saving 30% in energy and materials, including the complete elimination of boxes and sleeves. In addition, FreshWave steam lidding film incorporated into the graphics of the tray allows for unique steam cooking.

Elonen Specialty Cake Carton
Submitted by Econocorp, Inc. (Booth S-326)
The 340-g Simcoat paperboard carton with a PET-based (HOSTAPET PF 14) window features an octagonal design with consumer carry handles.

Fruit of the Loom Fun Pals/Gals/Under-Roos
Submitted by Fabri–Kal Corp. (Booth E-9203)
The clear amorphous PET (APET) clamshell for children's underwear is designed for hanging or stand-up display. A percentage of the package is made from post-consumer PET.

Keebler Take Alongs
Submitted by Fabri-Kal Corp. (Booth E-9203)
The six-cell white polypropylene perforated cookie tray is designed for portion control and take-along convenience. Additional contributors include Harpak (Booth E-9203) and Alcan.

Plumrose Center Cut Bacon
Submitted by Printpack, Inc. (Booth N-4043)
Plumrose's new Center Cut Bacon Re-Seal It package combines proprietary label technology with high-performance barrier films for easy opening and repeatable resealability for thermoform applications. Plumrose's Re-Seal It packaging system uses a unique precision sleeve rotary die-cut and label application, assuring package integrity, utility of use, and easy product access.

LongHorn Chewing Tobacco
Submitted by Scandia Packaging Machinery Co. (Booth S-312)
The package, a carton containing 10 cans of chewing tobacco, serves as a counter display and dispenser, with an integrated platform that positions the product to be pulled from the carton.

Linearpak for Target's Archer Farms® Cereal
Submitted by Sonoco (Booth E-8801)
While similar to a traditional cereal box, the Archer Farms® Linearpak® packages from Sonoco have several distinct differences. Rather than corners, the new Archer Farms canister's edges are gently rounded, so graphics flow seamlessly around the container. The Linearpak containers sport hinged plastic overcaps that facilitate easy pouring and reclosability. Instead of a hard-to-open bag, consumers find instead a tabbed membrane top that peels away from the top of the cereal container with a gentle tug.

Mövenpick Miniwelle
Submitted by Spies Kunststoffe GmbH (Booth E-8536)
The ready-to-go ice cream package includes features such as a small, tamper-evident safety closure and a combination of labels. An IML label follows the shape of the container. The self-adhesive sticker on the lid can be torn off partially to open a laid back area on the lid. The area contains a spoon, automatically dispensed within the lid production system just before labeling. The container's exclusive shape mimics the brand logo.
-Rick Lingle


Companies in this article