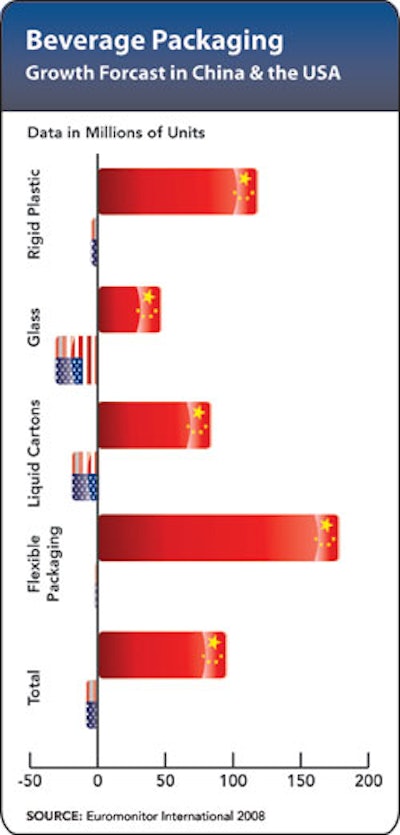 Earlier this month, The Coca-Cola Company announced a bid of US$2.4 billion to acquire China's largest juice manufacturer Beijing Hui Yuan Beverage & Food Group Corp. The growing fruit/vegetable juice market in China shows great potential for beverage and packaging manufacturers alike.
Packaging for fruit/vegetable juice in China is at nearly 22 billion units, and it is forecasted to grow by 94% from 2007 to 2012, which translates into growth of over 20 billion units. On the other hand, the US market already stands at nearly 9 billion units less than China, and it is projected to decline by 10%. Specifically for the Chinese market, PET bottles show some of the healthiest signs for growth in both percentage and actual terms. PET bottles for fruit/vegetable juice in China are expected to rise by 117% with a growth of nearly 15 billion units. These bottles comprised 58% of total fruit/vegetable juice packaging in 2007, and that is expected to rise to 64% by 2012.
There has been recent development of different shapes and sizes of PET bottles in the fruit/vegetable juice market in China. New lines of premium juices are delivered in more elegant PET bottles, which are designed to be kept as resealable cups rather than disposed or recycled, while more product introductions of juices for children require smaller bottle sizes. However, for children's juices, brick liquid cartons are favored and are expected to experience growth of 3.4 billion units at a rate of 83%.
While I surmise that most packaging manufacturers are involved in some capacity with China, this serves as another reminder of the many opportunities taking place outside of the United States.



> Browse Euromonitor International's
entire collection of packaging research
.