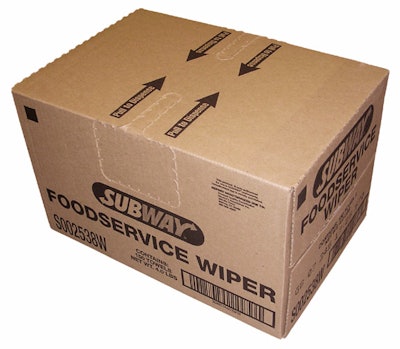 The Independent Purchasing Cooperative (IPC), Miami, FL, is the franchisee-owned and operated purchasing organization for Subway, the world's largest submarine-sandwich franchise. For more than 28,000 restaurants in 86 countries. IPC negotiates the lowest cost for purchased goods and services, while improving quality, enhancing competitiveness, and ensuring value to Subway restaurants and patrons.
"Senior management initiated a sustainability effort at Subway more than two years ago," says Joel Mesman, packaging technologist, Subway. "Senior managers challenged every department within Subway and IPC to evaluate sustainable options and pursue promising areas of opportunity. Packaging research and development at Subway and packaging procurement at IPC quickly joined forces to carry out this mandate for greater sustainability."
IPC met with a number of its established suppliers, as well as prospective vendors, and laid out a vision for reducing, reusing, and recycling foodservice packaging. Joe Bowers, director of packaging at IPC, believes that supplier support is essential to the success of a sustainable packaging program. "After meeting with our vendors, we received a steady stream of creative solutions and found genuine enthusiasm for change," he says. "Suppliers also demonstrated a willingness to change the way they operate their facilities to become more sustainable."
The cooperative's first major successes were "greener" compositions for napkins and cutlery. Then a switch from polystyrene to polypropylene for its cold drink cups resulted in an 8 percent material reduction and a savings of 10,000 barrels of oil annually.
IPC traditionally bought boxes of wipes, which are used to clean tables and counters, in industry standard boxes of 100 units each. A new supplier to IPC developed an interleaved dispenser box containing 150 wipes. This improved cube utilization and took 25 trucks off the road. The change to the new box also allowed the company to reduce the material used in each wipe by 25% while retaining similar cleaning capacity.
One of the cooperative's salad packaging and catering tray suppliers moved a facility from West Virginia to Abilene, Texas, to be 1,000 miles closer to an IPC redistribution center. This change cut the supplier's annual transportation by 1,120,000 miles and is saving 224,000 gallons of gasoline. The fewer miles traveled eliminated 1,967 metric tons of greenhouse gas emissions.
"We were unsure whether sustainability could be profitable," says Bowers. "We discovered time and again that sustainability can be. Once we demonstrated this fact, it created greater momentum.
"Executive-level support was essential to our efforts," he continued. "The fact that senior management challenged each department to become more sustainable made it possible for middle managers within Subway and IPC to stand up and take the lead in pursuing promising initiatives. With the active support of our vendor community, this has led to a broad scope of truly impactful changes."
To view the main story " Momentum builds for sustainable packaging", go to: packworld.com/view-24572

Companies in this article