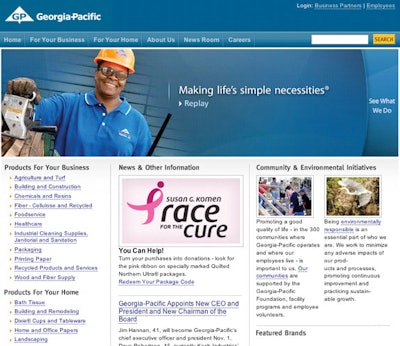 Datalogic Mobile,
Americas market
www.mobile.datalogic.com
The new site has multiple features that provide captivating graphics and a structure that highlights important new items of interest to the Americas market. Secondary menus located at the top of the home page help users search for specific information, link to the press room, case histories, newsletters, product information, and contact information.
Georgia-Pacific
www.gp.com
Updated Web site now offers easy access to all brands under the GP umbrella. Designed to deliver fast and easy access to the company's product information, the new site also showcases the different industries the company serves. New additions include navigation designed from a "for-your-business" and "for-your-home" perspective, a flash feature that promotes the span of GP's products and the diversity of its employees, and improved search function with user-defined features.
Misumi
www.misumiusa.com
This site is now equipped with an updated automation components and Web ordering system. Functional improvements include updates to its search engine and order processing systems, including a new quick order feature.
Companies in this article