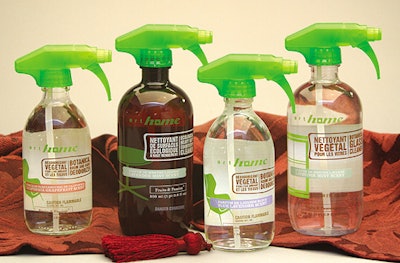 "We shopped around and did a lot of research on different sizes and shapes of sprayers for our Art Home product line," says Stephane Crevier, product development manager at Fruits & Passion. "This sprayer helped us accomplish our goal of staying ahead of the trends. It's refined and different from anything else on the shelf today."
Part of the unique look is achieved by the compact design and low height of the trigger, says Crevier. From top to bottom, the sprayer is just 1.49," while more conventional sprayers measure 2" to 3". The low height saves shelf space and makes it easier to ship the sprayer, both before it's been applied to a bottle and after.
Fruits & Passion uses the Easy Pump trigger sprayer, which has a spray/stream and on/off indexing nozzle, on two different bottles in its Art Home line: 300-mL glass and 500-mL PET. Both screen-printed bottles have a 28-mm neck finish. A paper, pressure-sensitive ingredients and information label is hand applied to the back of each bottle. Also applied by hand is a slender label on the front that identifies the scent.
The Art Home line is sold through 64 Fruits & Passion boutiques in Canada, as well as in specialty stores across the U.S. Suggested retail prices range from U.S. $8 to $18. —PR
Companies in this article