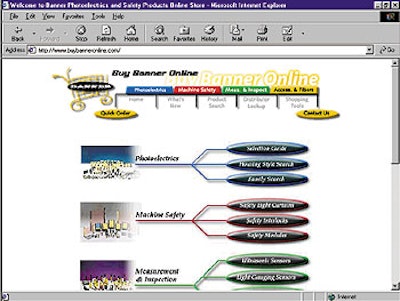 However, since we printed the URL incorrectly, we're re-running that portion of the column again here along with the correct URL: www.buybanneronline.com.
The well-designed shopping site for more than 10ꯠ Banner products includes its complete line of sensors, machine safety devices and accessories. Visitors can shop by sensor housing style, sensing requirements or product family, or buyers in the know can simply type in the part number.
The site promises that in-stock items ordered before 4 p.m. CST can be shipped immediately for overnight delivery. The site provides a real-time indication of products in stock.
In a nice touch, after users are finished picking out and ordering a product such as a sensor, the site suggests a handful of accessories related to that specific order, such as mounting hardware. That makes quick work of ordering disparate but related components.
Overall, the site is easy to use and a boon for harried, on-the-go engineers.
Rockwell Automation (Milwaukee, WI) also allows machine builders and end users alike to order controls components directly from its site at www.rockwellautomation.com/ abstore. There's a horizontal strip that runs across the top with drop-down menus that allow you to order a variety of Rockwell's brands, including Allen-Bradley, Dodge, Reliance Electric, Rockwell Software, Entek and Encompass products. Those brands combined represent more than 230ꯠ products online. The percentage of each brand's products available online ranges between 80% and 100%, according to the company.
For quick ordering, you can type in the catalog number, or enter a specific keyword such as "slc 500" to pull up all components in the Allen-Bradley SLC 500 product family, for example. Prices are shown for every item, at least the ones I saw. Rockwell says that when you first log on, list prices are shown. For customers who make ongoing purchases, their own "special" (read: discounted) pricing will be shown.
Clicking on a specific item doesn't really provide information on the item itself, which would have been nice, but rather presents inventory- related information such as packaged quantity, order minimum and lead time in days.
The site also allows you to modify or check on the status of existing orders. Another benefit is that you can shop without registering first. If you try to put an item in your shopping cart, the site politely asks you to log in or register if you're a new user. Products are delivered by Rockwell Automation's nearest distributor.
Companies in this article