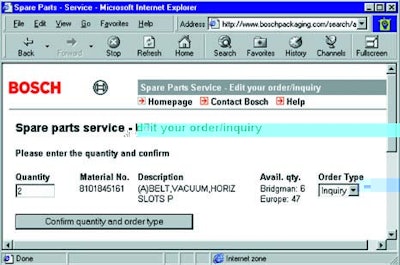 During the past two years, we've noticed packaging materials suppliers offering these details. Now, machinery builders are getting into the act.
Robert Bosch, Packaging Machinery Div. (Bridgman, MI) is among the first packaging machinery builders we're aware of that enables packagers to order spare parts directly from its Web site at www.boschpackaging.com/search. A Bosch-assigned password is required to access this portion of the site.
The spare parts section of the site opens with a nice human touch. Upon logging in, we were presented with a rather large photo of the customer service representative assigned to our account, along with his phone number, fax number and e-mail address, reminding us that we can have high-tech without losing the human touch.
The site allows users to search the company's U.S. and European inventories for a specific part number. Inventory data is updated daily on the site, so it's nearly a real-time system. Customers can place orders via phone or fax. They can also key in a purchase order number on the site. Another benefit: Customers can create shopping lists of frequently ordered parts.
The text-oriented site offers few graphics. However, that speeds downloading and makes it easy to understand. Indeed, the simplicity of the design belies the complexity involved in granting customers 24-hour access to daily parts inventories in Bridgman, MI, as well as in Germany. Because of that, the site provides global customers a means of supporting their machinery regardless of location.
Bosch reports that in the three months the spare-parts site has been operational, many customers are using it to check parts availability. However, few if any are actually ordering parts via the site. But that's not due to any shortcoming of the site. Rather, Bosch has found that its customers must follow traditional, internal ordering schemes that haven't expanded to keep pace with vendors that allow Web-based parts ordering. Bosch and its customers are looking for a way to bridge that gap.
Companies in this article