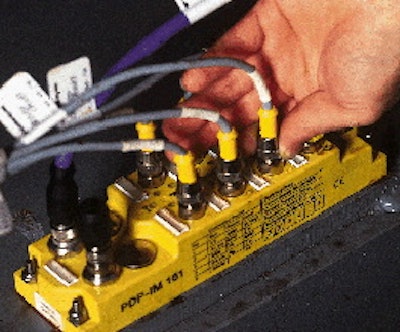 Aside from the PC control, one of the other unique control aspects of Beverage Capital's filling equipment is that all the sensors, drives and other components on the machine communicate with the PC via a device-level network on the machine. The network, in this case Profibus, simply connects one device to another, daisy-chain style. The benefit for Beverage Capital: If a component on the machine fails, it can be replaced more quickly, as was the case recently with a sensor. "You simply unplug it and plug in a new one," says Frank Hyatt, maintenance supervisor. The Profibus cables and bus expansion modules, supplied by Turck (Minneapolis, MN), are easier to work with than installing expansion cards and wiring new I/O points on a PLC, according to Hyatt.
The combination of the device-level network and the PC control make expansion easier, Hyatt says. "If we want to add a sensor, it's just a matter of adding a couple lines of code [in the PC]," he says. "If we have to increase the bus [to accommodate more sensors, drives or other devices], we just snap in a new bus expansion module and it auto-configures itself.
"We didn't specify [a device network], but the fact is that it makes the machine really easy to maintain," says Hyatt.
Companies in this article