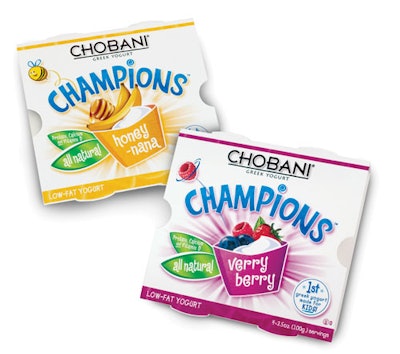 This is happening in Greek (strained) yogurt, where Agro Farma Brands, New Berlin, NY, has created a new subcategory to court kids in a segment that previously has focused on health-conscious adults.
Agro Farma's Chobani is the No. 1 yogurt brand in the Northeast, and claims half of the Greek yogurt market, which accounts for 17% of all yogurt sales, up from less than 5% two years ago. Agro Farma is looking to improve its stronghold in Greek yogurt with Chobani Champions, for 4- to 12-year-olds.
Chobani Champions is marketed in four-packs. The 3.5-oz high-density polyethylene cups are sized for children's appetites.
It's the graphics on both the cups and the sleeves, printed offset in six colors, that deliver the kid-centric message, says Niel Sandfort, Chobani brand manager. The art elements consist of photo-realistic fruit illustrations combined with a graphic depiction of the yogurt product and cup. They appear on the shrink-sleeve labels that decorate the polypropylene cups and also on the sleeves, which are made with a poly-coated paper from The Mid-York Press.
The package design, created by Ceradini Brand Design, portrays the yogurt in a fun, playful, and charming way, communicating the potential of children to become champions in their own lives. In addition, the on-pack communications build parents' trust about the product as a healthful snack.
"The packaging was designed to stand out in a sea of vivid colors and imagery now popular in the kids' section of the yogurt case," Sandfort says. "While many other yogurt brands speak directly to children, we designed our packaging to first appeal to moms."
Companies in this article