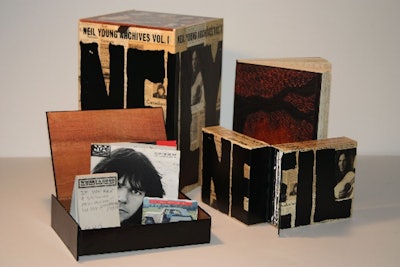 The set, called the Neil Young Archives, Volume 1, is a time capsule of Young's musical and personal journeys from 1963 to 1972, and the packaging sets the stage for hours of musical and reading enjoyment that engages consumers with the feeling they are getting to know the entertainer close-up. The boxed set won a Grammy Award in January for Best Boxed or Special Limited Edition Package.
The elaborate boxed set, in its complete version, contains multiple CDs, DVDs, Blu-rays, and a replica of Young's revealing personal journal.
Created by R. Twerk & Co., the boxed set was designed to meet two of Young's requirements: It is durable and eco-friendly. The outer box and CD carriers inside the container are SBS board and corrugated partitions from
Jenco Productions
. They're printed in six colors and four process colors, plus a spot black and spot varnish to accentuate the fine graphic details. Those include a "wrap" of newspapers of the era and artwork that embodies Young's early years as a musician.
The graphics are printed on Monadnock Duraprint, an environmentally friendly paper from
Monadnock Paper Mills
.
Elsewhere inside the box are the discs, a "stash" box, and another engaging keepsake, a replica of Young's leather personal journal. The journal and the CD wallets are made of Mohawk Via Vellum from
Mohawk Fine Papers
. The journal cover is a faux embossed leather. The look and feel of leather are achieved by screen printing on a synthetic material, with embossing accomplished using what Gary Burden, the boxed set's lead art director and designer, describes as a "radio frequency" embossing method.
"The papers were picked from the standpoint that they had the right weight, color, and especially feel," Burden says. Burden and Young have been collaborating on album cover art for more than 40 years.
"From the perspective of environmental consciousness, this paper also had the qualities of not only being Forest Stewardship Council-certified as being made from pulp yielded in an environmentally responsible manner, it also was made using all wind power and its manufacturing was done without a carbon footprint" and using Post Community Waste content.
In addition, the papers' porous surface provides a tactile feel to heighten product-quality perception.
"The objective was to present a large archival collection of music, photography, and memorabilia in a new and unique way," Burden tells SI. "The package is a very complete collection of an artist's life and works."
The boxed set is available in three formats: CD, DVD, and Blu-ray. They are priced at $100, $200, and $300, respectively, to reflect price points for sets containing some or all of the components.