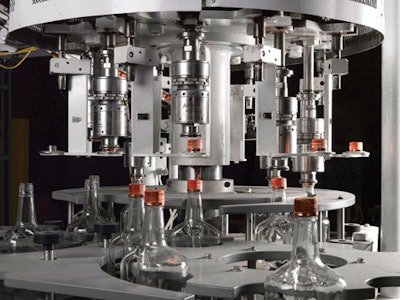 Capping headsets on three rotary capping machines at Austin, TX-based Tito's Handmade Vodka were causing a number of problems. They often overtightened the 28- and 33.5-mm closures, which meant consumers struggled with cap removal. In addition, keeping them running required parts that were expensive and difficult to find. But worst of all, the capping headsets too often damaged the injection-molded polypropylene closures they were torquing.
"The copper-colored coating on the closures was being removed in the torquing process," says Tim Taylor, Tito's bottling and packaging manager. "The coating is pretty delicate in nature, and the capping chucks must contact the closure in a way that holds the cap firmly without damaging it."
That's where
Warner Electric
came in. Taylor had worked with Warner in the past on various projects and knew about the capping headsets they make. Featuring smooth-torque magnetic technology, they demonstrate improved performance over the traditional synchronous OEM headsets because they eliminate pulsing, vibration, and pounding. They also eliminate overtightening.
Warner determined that Tito's needed headsets with specially-designed chucks that would hold the closures without slipping and improve torque control. Tito's provided a sample headset that Warner used for measurement purposes. Warner then provided a sample magnetic headset and fixed jaw chuck that Tito's was able to install with no other modifications to the base machine. As soon as this sample headset with chuck was installed and running, improved efficiency was quickly noticeable.
"The Warner headsets are easy to adjust and deliver repeatable results," says Taylor. "If we do experience a change in materials that requires torque adjustment, we can make the adjustment quickly and the results are predictable. We just didn't have that kind of adjustment capability on the old headsets."
Tito's wound up purchasing 36 smooth-torque capping headsets for its three bottling lines, which run 750-mL, 1-L, 1.5-L bottles. Two different chuck designs were required. According to Taylor, the headsets were manufactured and delivered in a timely fashion. "From start to finish the timeline was reasonable, especially considering we required a headset for testing purposes," says Taylor.
The prototype sample was delivered to the vodka producer about two months after conversations began, and the complete order was shipped within a couple of weeks from when the order was received.
Tito's Handmade Vodka is very satisfied with the results. "We experience no jamming problems or need for maintenance during shifts," says Taylor. "The older headsets would not run for more than a few minutes before having issues or needing adjustments or cleaning."
Companies in this article