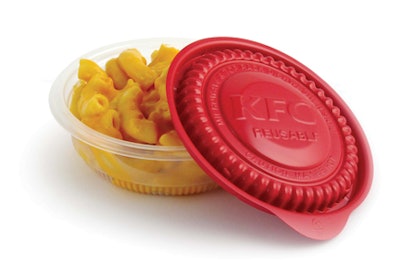 The new polypropylene container and lid from
Anchor Packaging
replace KFC's former single-use expanded polystyrene version for side dishes such as mashed potatoes and gravy, macaroni and cheese, cole slaw, and green beans.
The PP container has been introduced in five markets since May 2010 and will be available nationally by the end of the year. KFC's expectation for the container is that consumers will reuse and eventually recycle the package. "Through consumer research, KFC found that consumers prefer reusable containers because it gives them control of how the container is reused or disposed of after purchase," says Susan Miles, engineering manager at KFC. "KFC's initial research also found that 60% of consumers keep a reusable container for at least six weeks."
To convey the package's reusability, it was designed with a clear bowl and red embossed lid that reads, "KFC Reusable, Microwave & Top Rack Dishwasher Safe." According to Miles, "the embossing assists in carrying the message."
Because the side dishes are held in a steam environment at the restaurant, one design challenge was to create a container that vents moisture vapor without allowing anything to enter the container. The solution was what KFC calls a new "patented ventless vent technology" that eliminates the need for a hole in the top of the lid. The lid is said to be leak-resistant and provides a secure fit.
Among the sustainability propositions noted by KFC, the new PP container:
• Reduces the shipping cube by 14% over EPS
• Replaces single-use, nonrecyclable EPS with a reusable and more widely recycled resin, PP
• Represents the highest value in stored energy when incinerated as an end-of-life solid waste component and part of a waste-to-energy program, at 38 million BTUs per ton of material
• Requires 25% less energy to produce than general-purpose polystyrene production
• Generates half the amount of greenhouse gases as compared to general-purpose PS
"This new sides container is KFC's and the QSR [quick-service restaurant] industry's first formidable foray into reusables," says Miles. "While reusable containers are not appropriate in all circumstances, KFC's sides are the perfect application."
Greener Package Awards judge Dean Bellefleur of D-Idea seems to agree. "Fantastic," he says, "a reusable container that can actually find its way into anyone's lunchbox. Top marks for me."
Companies in this article