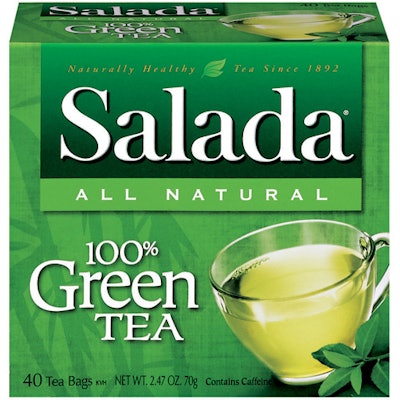 The 16-pt SBS boxes are printed in six colors and supplied by ModPac.
The work was honored in the food and beverages category. For nearly four decades, the publication has sponsored national design competitions for creative professionals. According to the magazine, the American Package Design Awards recognize that great package, P-O-P, and in-store graphics are increasingly the "difference makers" in consumer perception and behavior, and in successful outcomes for manufacturers and retailers.
"The American Graphic Design Awards recognize the best work from across the United States," said Michele Peters, brand manager of Salada Tea. "It is an honor for Salada to be included in [the] selection. The redesign of the Salada packaging was done to continue to appeal to the green tea consumer. Salada has been sold for over 100 years and our efforts from both marketing and packaging perspectives are to remain true to our healthy lifestyle messaging."
Redco Foods manufactures Red Rose Tea, Salada Tea, Teekanne Tea and Junket Desserts from its Little Falls, NY operations Facility. Salada produces 19 different flavors of green and white tea available at supermarkets nationwide. Salada's 100% Green Tea sells more than one hundred million tea bags a year.
Companies in this article