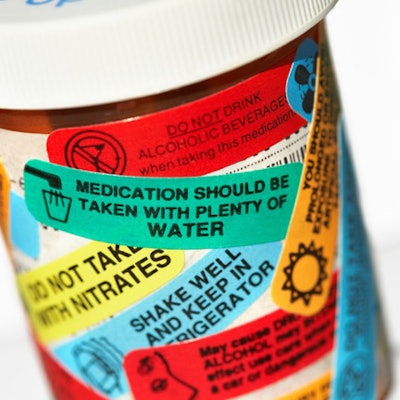 What's in a name? Plenty, according to the U.S. Food and Drug Administration. On Feb. 17, the agency noted that Novartis Consumer Health Inc. "agreed to change the name of Maalox Total Relief to one that does not include the word 'Maalox' and will change the drug's packaging to avoid further confusion."
The problem, says the FDA, is that Maalox Total Relief and other Maalox over-the-counter products relieve different symptoms. Bismuth subsalicylate, the active ingredient in Maalox Total Relief, "is chemically related to aspirin and may cause similar harmful side effects such as bleeding," notes the article on the FDA Web site, which says Maalox Total Relief may not be appropriate for individuals with gastrointestinal ulcer disease, those recovering from viral infections, or those taking certain drugs.
"We want companies to consider the potential for name confusion when choosing names for their drugs," says Carol Holquist, R.Ph., director of FDA's Div. of Medication Error Prevention and Analysis, in the article.
The article says Novartis Consumer Health Care has agreed to change Maalox Total Relief to a name that does not include Maalox, change the product label design, conduct an educational campaign, and actively monitor and report adverse events associated with the use of Maalox-brand products.
"The renamed product is expected to begin selling in September 2010," says the article. It advises consumers and healthcare professionals to carefully check Maalox product labels to check that the appropriate product is given for a patient's conditions. Maalox side effects or problems can be reported to the FDA.
Holquist says in the article, "We appreciate Novartis' efforts to work collaboratively with FDA and their decision to remedy this situation to avoid any confusion over Maalox products in the future."
Novartis Consumer Health's Maalox Web site points out that it is working with the FDA, consumers, and healthcare professionals about when to select or recommend Maalox Total Relief, noting that "Maalox products are safe and effective when used as directed. …Maalox Total Relief and Maalox Advanced liquid products are not interchangeable. People should always read the complete drug facts label on all over-the-counter products before use and should only use medicines that treat their specific symptoms."
Meanwhile, in Hong Kong, a blood pressure medicine recall is being monitored by the Department of Health. Says Health & Community news.gov.hk, "The Department of Health is monitoring a recall of a batch of PMS-Carvedilol 12.5mg tablets supplied by pharmaceutical products wholesaler Trenton-Boma. On some of the bottles of the product, the additional label, which the wholesaler has added to comply with the local statutory labeling requirements, states incorrectly each tablet contains 6.25mg carvedilol and shows incorrect registration number."