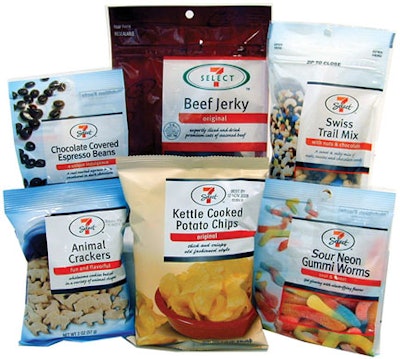 More sophisticated private-label approaches are coming to convenience stores too. 7-Eleven is one C-store chain that has embraced the power of packaging as it widens its own-brand assortment to help build shopper loyalty.
7-Eleven's steadily growing line of 7-Select snack-cake, pie, mini-donut, and breakfast pastry products provides a snapshot of the chain's thinking. The chain's store-brand strategy is to be the lowest-cost selection while also offering shoppers convenience and value—with product quality that equals or surpasses that of national brands. In all, 7-Select was expected to encompass 260 SKUs by the end of 2009.
This process takes shape through a collaborative process, says Tom Gerrity, senior director, merchandising and processed foods, at 7-Eleven. Suppliers working closely with 7-Eleven's category managers make the final packaging decisions, with input from marketing and other in-house departments.
7-Select products are presented on multiple tiers, Gerrity adds. "Packaging is key to creating consumer awareness, especially because there is no advertising of the 7-Select brand," he notes. "The consistent look, packaging, and logo are important to creating the brand, showing consistency, and building consumer confidence in our products."