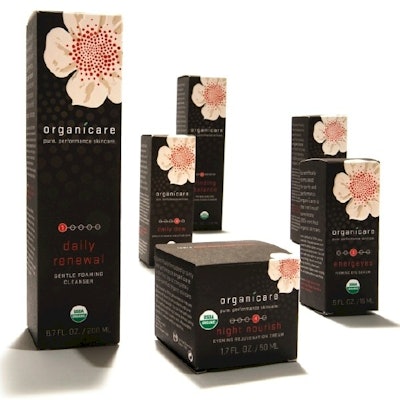 Dallas-based Organicare produces a line of "USDA Organic" certified skincare products that were launched in upscale department stores, including Nordstrom, Dillard's, and Henri Bendel, during Fall 2008.
In order to compete at the cosmetics counters of these stores, the packaging had to be sophisticated and fashionable, while staying true to Organicare's earth-responsible mission.
The company turned to Willoughby Design (www.willoughbydesign.com), a specialist in brand identity and packaging design innovation, for help. Organicare president and brand creator Jamie O'Banion says, "A visit to meet the Willoughby team confirmed my confidence and respect for their eco-friendly design approach, market knowledge, and brand vision."
All of the packaging Willoughby designed for Organicare is made using 15% hydro-electric power and 85% wind power and is produced in a completely carbon-neutral facility. The Forest Stewardship Council (www.fscus.org)-certified, fully recyclable folding carton packaging material is made with 80% post-consumer recycled paper. Organicare prides itself on taking responsibility for the company's carbon footprint and for using packaging that reduces carbon dioxide emissions and offsets emissions through tree-planting replenishment. Organicare's cartons, which feature proprietary sustainable pearl coating and embossing, are fabricated and printed by Curtis Packaging (www.curtispackaging.com). The primary containers housed within the folding cartons are supplied by plastic bottle distributor Pennco Container, Inc. (214/631-3660).
Organicare's goal was to create stylish and sustainable packaging that reflects what's inside the bottle. O'Banion says, "I am thrilled with the final packaging result. It's a perfect representation of our goal for a design that embodies our messages of both purity and performance."
Companies in this article