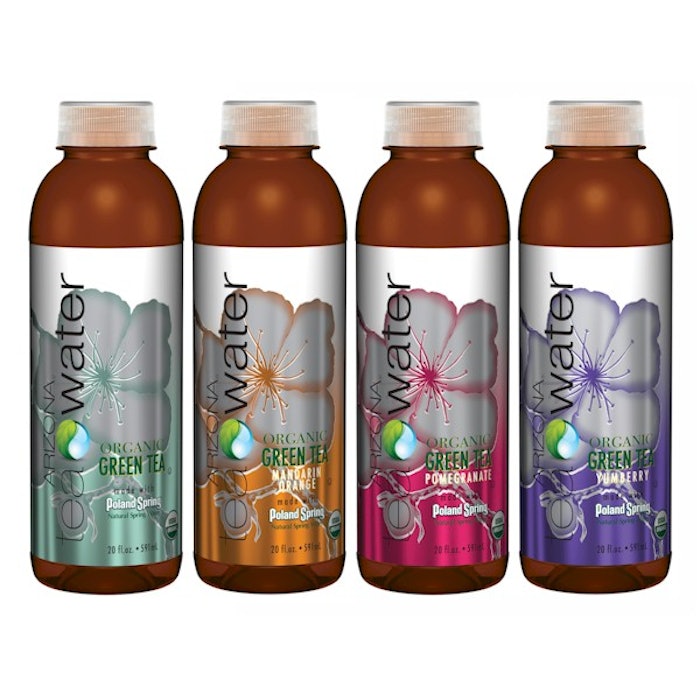 A line of ready-to-drink AriZona Tea Waters was introduced by the partnership of Lake Success, NY-based AriZona Beverages and Nestlé Waters North America Inc. The U.S. Dept. of Agriculture-certified organic tea-infused waters are low-calorie and include Poland Spring-brand natural spring water from Maine, as well as organic cane juice and fruit extracts, combining the antioxidant benefits of green tea with the hydration of natural spring water.
Four varieties are sold in 20-oz amber PET bottles from Constar Intl. Inc. (www.constar.net). An AriZona Beverages spokesperson confirms the bottles are made with Constar's Vertical Compensation Technology™. The bottles offer ultraviolet light protection and oxygen barrier to help protect the natural antioxidants and flavor.
Beyond the amber bottle color, a colorful graphic punch is provided by the label, which helps distinguish AriZona Beverages packaging. The 3-mil metallized label material is supplied by ExxonMobil Chemical (www.exxonmobilchemical.com) and gravure-printed in eight colors by Inland Printing (www.inlandprinting.com).
Green Tea, Yumberry Green Tea, Mandarin Orange Green Tea, and Pomegranate Green Tea waters are available for $1.49 per bottle in select Northeast markets. As product rolls out to additional markets in 2009, it will use other Nestlé Waters' regionally sourced waters including the Ozarka brand in the central-south region, Deer Park in the mid-Atlantic, and Zephyrhills in the south.
AriZona Tea Waters represent the first joint project between AriZona Beverages and Nestle Waters. "We are not only excited about this breakthrough new organic product, but we are ecstatic to be partnering with the leading bottler of natural spring water, Nestle Waters North America," says Don Vultaggio, chairman of AriZona Beverages.
Tim Brown, executive vice president retail operations for Nestlé Waters, which produces Poland Spring, adds, "For those who sometimes want their water with a twist of flavor, AriZona Tea Waters delivers a delicious variation. It's a natural fit, and we're delighted that Poland Spring is a key ingredient in this unique organic tea-infused water."
Companies in this article