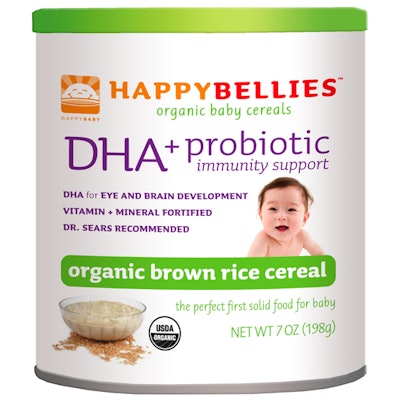 Organic baby foods manufacturer HappyFamily, Brooklyn, NY, is marketing its new HappyBellies™ brand dry mix infant formula in 7-oz composite, preformed, prelabeled canisters supplied by a leading, undisclosed manufacturer. The gas-barrier canisters are filled and bottom-seamed by a contract packer. After filling and before seaming, the canisters are injected with liquid nitrogen (LN2) to extend shelf life, using SoftDose technology from Cryotech International, Inc. (www.cryotechinternational.com).
LN2 injection provides important advantages over gaseous nitrogen injection for this application. For one thing, no floor-space-consuming gas tunnels are required. Also, LN2 can be dispensed in small, precise doses, reducing nitrogen supply requirements. One part of LN2, when warmed, will turn into 700 parts of gaseous nitrogen. But more traditional LN2 dosing systems have not been particularly successful in powder applications in the past. Large gas pockets can erupt, spewing the powder out of the container.
Cryotech engineers evaluated the situation and recommended their SoftDose technology. The Cryotech UltraDoser SC350 system gently layers a fine spray of liquid nitrogen on top of the powdered product, maximizing oxygen displacement and avoiding excessive liquid nitrogen splash. When the LN2 comes in contact with the surrounding container environment, it quickly turns into gaseous nitrogen. The gas displaces potentially harmful oxygen as the container is seamed shut. Nitrogen injection enables an estimated one-year shelf life for the powdered product.
The in-house technicians from the unidentified contract packing company completed the plug-and-play installation and startup of the Cryotech UltraDoser unit themselves with no difficulties.
HappyFamily COO Jessica Rolph reports, "We introduced HappyBellies in October 2007, and now are in national distribution through retail stores and on-line. The product offers high-profile vitamin and mineral content and features probiotics plus DHA. Probiotics can prevent the development of food allergies in infants, and DHA is a vital nutrient for babies' brain and eye development. The combination of our special nutrition formulation and the convenient, extended-shelf-life packaging has met with overwhelming consumer response."
Companies in this article