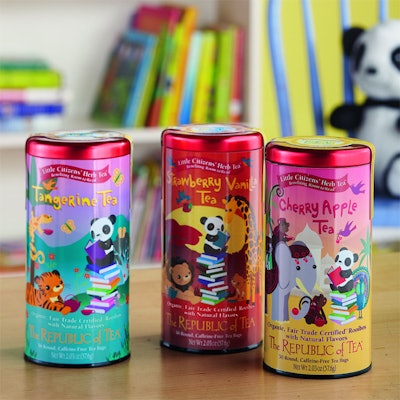 New Little Citizens' Herb Tea, from The Republic of Tea, Novato, CA, is the first line of naturally caffeine-free, organic Rooibos-based, Fair Trade Certified herbal teas for children. The line of three teas, strawberry vanilla, tangerine, and apple cherry, can be enjoyed hot or iced.
The bagged teas are packed inside a colorfully decorated tin container. The label depicts a fanciful, richly colored image of the Little Citizens' Herb Tea's mascot, Bamboo the panda bear, and his animal friends enjoying tea and books amid exotic locations, including India, South Africa, and Vietnam.
In addition to brewing instructions and ingredients, each label, in words and graphics, tells a tale of Bamboo and his adventures, as well as the history and mission of Room to Read. Children can discover a different story of Bamboo and his reading friends on each of the three tins.
A pressure-sensitive band extending over the lid and down the container's sidewalls provides tamper evidence. The Republic of Tea declined to credit the tin supplier or note anything further regarding the package except that it was designed internally.
The teas have a suggested retail price of $10.50 for a tin containing 36 unbleached, round tea bags, free of unnecessary strings, tags, or staples. The products are available nationwide at select natural and specialty food stores, through the company Web site.
For every tin of Little Citizens' Herb Tea sold, The Republic of Tea will contribute $1 to Room to Read, an organization that impacts the lives of millions of children in the developing world by providing the lifelong gift of education.
-Rick Lingle

Companies in this article