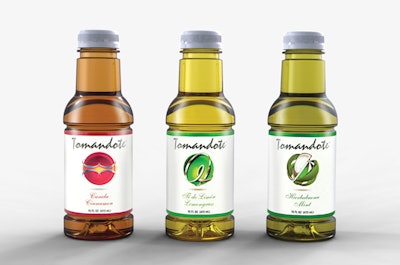 "Children will be holding the product," he explains, "so I didn't want any issues with breakage."
After settling for a PET bottle with ribs, Ruvalcaba found Amcor's (www.amcor.com) 16-oz long-neck PowerFlex PET bottle with a 38-mm finish and decided it was a better choice for his product. The bottle looks like glass and has a panel-free design, allowing for a smooth label area without any ribbing.
"The issue I had [with the previous bottle] was the fact that when you apply the label, it doesn't stick to the bottle because of the ribbing," says Ruvalcaba. With Amcor's bottle, the absence of sidewall panels makes labeling easier and prevents a rippling effect. The PowerFlex bottle can also withstand hot-fill temperatures of 185°F. It absorbs vacuum via an inverted cone-shaped diaphragm in the base of the bottle that deflects upward as the liquid cools.
H.A. Rider & Sons (www.hariderandsons.com) bottles the Tomandote line, which consists of three flavors—Lemongrass, Mint, and Cinnamon. Ruvalcaba foregoes pictures of mint leaves and cinnamon sticks on the bottles' labels in favor of logos that are open to interpretation. "There's no meaning behind them, other than what you see is what you get," he says. And what you get is a premium tea made from natural products without corm syrup or added colors.
Tomandote is sold in grocery stores, gas stations, and restaurants and has been approved by a California school district for distribution in middle and high schools. Ruvalcaba says response to the product has been overwhelming. "I feel great that my family is drinking it as well," he says. Tomandote retails between $1.99 and $2.69 a bottle.
Companies in this article