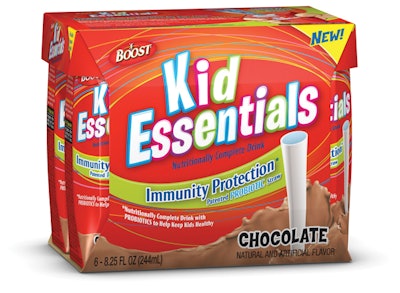 The milk-based beverage in Vanilla, Chocolate, and Strawberry varieties launched in September is packed in a shelf-stable Tetra Prisma package from
Tetra Pak
(
www.tetrapak.com
) paired with a patented, probiotic-containing straw from Swedish biotechnology company
BioGaia
(
www.biogaia.com
).
Until now used only for beverage applications in Spain and Japan, the BioGaia Probiotic Straw holds 100 million L. Reuteri Protectis cells contained in an oil droplet that is released when the consumer drinks through the straw. Tasteless and colorless, the probiotic is said to help strengthen a child's natural defenses by supporting a healthy immune system.
Nestlé Nutrition's director of retail marketing, Barbara McCartney, says the company decided to add a beverage aimed at kids one through 13 to its line of Boost nutritional products based on feedback from parents and doctors. "We researched moms of children ages one through 10 and pediatricians and confirmed there was significant interest in a pediatric nutritional supplement with the additional benefit of immune system support," she says.
The 8.25-oz Tetra Prisma format was chosen as the primary package because of its "high kid appeal for easy handling and its mom appeal for being spill-proof," notes McCartney.
The drink is sold nationwide in retail outlets such as Target, Walgreens, Kroger, and others, and is available in a six-pack format held in a paperboard sleeve. Package graphics are bright and eye-catching, using a circus-like palette of primary colors that clearly defines the drink's intended audience. A cartoon on the top of the six-pack sleeve shows a cutaway of the straw and the words, "Immunity Support from Probiotic Straw!"
According to McCartney, both retailers and consumers have shown positive interest in Boost Kid Essentials, which sells for $11.89 per six-pack. "Retailers have been very enthusiastic, as this is the first product of its kind and brings innovation to the pediatric nutritional beverage category," she says. "Consumers also show excitement for the probiotic benefit so that they can help their kids stay healthy, especially when they are in school or daycare."
Companies in this article