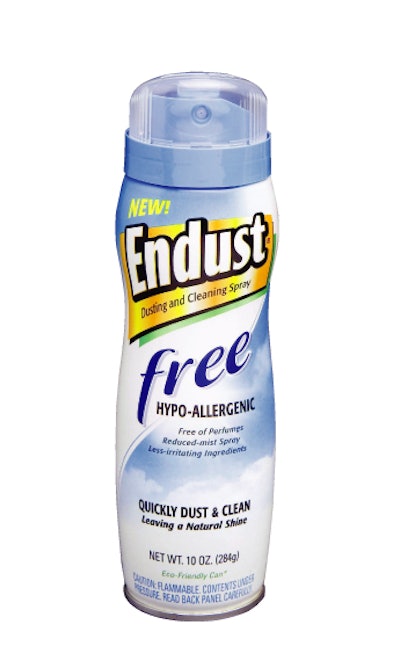 Sara Lee Corp. is among the brand owners riding this trend. The company worked with Crown Aerosol Packaging USA (www.crowncork.com) to develop a distinctively shaped, 100% recyclable steel aerosol can to launch its new Endust Free Dusting and Cleaning Spray nationally in August. The 10-oz package's elegant, curved surface is easy to grip and facilitates product dispensing. Calming colors on the label suggest white clouds against a blue sky. Each of these features subtly reinforces product attributes, says Stan Stoltzfus, director of marketing, Household & Body Care, at Sara Lee.
"Crown's ability to create innovatively shaped aerosol packaging supports our message of convenience, health, and wellness," Stoltzfus says.
The container's shape results from Crown's proprietary blow-forming process that places preforms into precision molds. High-pressure air expands the steel, which then takes the shape of the mold.
Beyond marketing benefits, the shaped container also requires 14% less material than normally found in a 10-oz aerosol can.
Two more features give this package additional marketing pluses. A value-added valve-dispensing system narrows the spray area to reduce bothersome mist and overspray. Elsewhere, a clever twist-and-lock cap prevents accidental product dispensing.
All these features are evidence yet again that consumers become engaged when the packaging provides them additional value for their purchase dollars. Sara Lee conducted follow-up in-home tests of 247 Endust Free users, and 82% of the respondents indicated they liked the new package shape "extremely well" or "very well."
Companies in this article