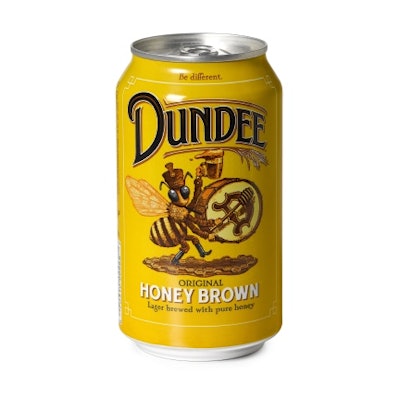 High Falls Brewing Co. has introduced new graphics for its Dundee Honey Brown cans using Eyeris enhanced beverage can printing technology from
Ball Corp.
(www.ball.com). Printed offset in six colors, the can graphics feature a 150-line screen, which is likely the highest graphic resolution ever achieved in full-scale, beverage-can production. Conventional can printing is said to provide line counts of 85 to 100/in.
Earlier this summer, High Falls Brewing Company's signature craft beer line J.W. Dundee's became, simply, Dundee. The Rochester, NY, brewer redesigned its packaging to better represent the meticulous crafting that goes into every beer and chose Ball's Eyeris technology to produce the can graphics for its flagship brand, Dundee Honey Brown.
"Our new packaging initiative was to correctly position the Dundee portfolio within the craft beer category," said Patrick Magallanes, vp, marketing, High Falls Brewing. "When we were looking at options for production on our cans, it was quite clear that Ball's Eyeris technology would give our Dundee Honey Brown package the most authenticity as a craft beer in a craft can."
Although the printing technology carries a premium of more than four cents per can according to Magallanes, it was needed for Dundee Honey Brown. "It helps us overcome a disconnect consumers may have with a craft beer in a can," he explains. It remains the brewery's only canned product, though the graphic enhancements give the canned brew more opportunities, such as airline sales, he notes.
Can-do graphics
The graphics redesign encompasses 11 Dundee brews, including seasonals, handled by
Martino Flynn
(www.martinoflynn.com) to unify the company's bottled offerings. The revamped look also gives the products personality, according to Magallanes, including a brand-specific story for each style ale or lager. While some colors and elements remain for consumer familiarity, he says the redesign was intended to be transformational, rather than transitional.
"We're a small company that doesn't rely on advertising," Magallanes says. "We sell through the packaging, which now makes us look like an established national brand."
Eyeris brings improved definition and fine detail to beverage can graphics to create premium, on-shelf differentiation. It is particularly effective for reproducing high-resolution, photographic quality images. Using up to six colors as was done for the Dundee cans, Eyeris is available for any of the 18 beverage can sizes Ball manufactures in North America, and is compatible with all filling processes including retort. Eyeris debuted fall 2007 with Jones Soda; other users have included Fat Tire, Cinnabon coffee, and Ntrinsic Energy.
Dundee has been pleased by the results for the can and for the entire redesign. "The redesigned packaging is selling 'hugely' for us," he says. "The new graphics have resulted in our single Oktoberfest introduction outselling all our 2007 seasonals combined."
Companies in this article