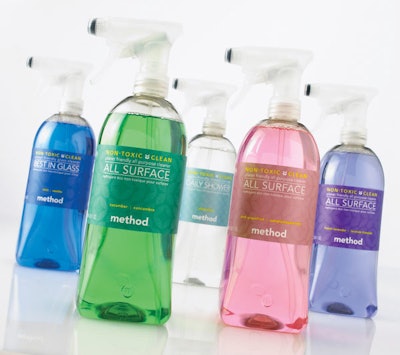 San Francisco-based Method Products Inc. has converted three of its U.S. product lines (9 SKUs) to 100% post consumer recycled (PCR) polyethylene terephthalate bottles from Amcor PET Packaging (www.amcorpet.com). The conversions, which affect 28-, 25-, and 12-oz bottles, are thought to represent the first 100% PCR applications in the U.S. for household cleaning products. The company had previously been using 100% virgin PET resin for these bottles.
By converting to 100% PCR on the 28-oz bottle the carbon footprint was reduced by a significant 60% or 63.14 kilograms of carbon dioxide equivalent (CO2e) per thousand containers produced. When the same bottle was produced in virgin PET, emissions were 104.67 kg CO2e per thousand.
Method Products was founded in 1999 on a strong environmental platform, which includes the use of biodegradable ingredients in its formulations and "most readily" recyclable packaging for its containers. The introduction of Method's 100% PCR bottles, once again, redefines the cleaning products category with an even stronger sustainability position.
The product lines affected are method's 28-oz All Purpose Cleaners (lavender, pink grapefruit and cucumber) and daily shower spray (ylang ylang); 25-oz floor cleaners (lemon ginger and wood for good); and 12-oz surface cleaners (daily granite, stainless steel and wood for good polishes).
"Because we had been successful with 100% PCR bottles in the U.K., we wanted to explore what could be done in the U.S.," explains Jason Crouch, director of procurement, method. But unlike the European supply infrastructure, which is more vertically integrated, obtaining a consistent supply of PCR flake suitable for blow molding PET bottles has not been established in the United States.
"When method came to us last year on this project, we were hoping to get to 50% PCR content. In our trials, we tested 10-, 25, 50-, 75-, and 100%. That's when we discovered that 100% PCR content was not out of the question, but we knew we had a lot of work ahead of us before we could be confident that the bottles meeting all of the criteria could be produced at commercial rates," says Greg Rosati, business director, personal care, Amcor.
The first challenge was finding a suitable supply source. This meant identifying a company that could source a supply stream with the right characteristics and be able to repelletize the flake so that it could be used to produce bottles.
"Ideally, you want the original PET bottles not to have been commingled with any other plastic type. The best source from a material purity standpoint is PET carbonated soft drink bottles that have been collected from a deposit-based program. Second best are bottles that have been curbside collected," Rosati says. "Additionally, we needed to tap into a company that could provide the desired material quality on a consistent basis and who also has the technology to create pellets from the flake that results when these bottles are ground up."
On the processing side of things, multiple obstacles needed to be overcome. For example, PCR has a much lower intrinsic viscosity (IV) than virgin resin. Since the resulting PET molecular chains are shorter, Amcor had to relearn how to process the material. Additionally, the gray and blue scale color readings had to be at a certain level or the material would not be able to produce a clear bottle. (Five of the SKUs using 100% PCR are in clear PET bottles; colorants are used for the rest.)
"Method and Amcor engineers worked together to overcome each of the material, production, and performance challenges that presented themselves throughout the project," Crouch says.
The project started last June with trials taking place between August and November. Full scale production took place in December. Bottles are stretch blow molded at Amcor's Nicholasville, KY plant. Product starting making its way onto retail shelves in February.
"Not only has this been a learning experience for both Amcor and method, but resin suppliers have also benefited. The end result is a bottle that is having a positive impact on the environment," Crouch says.
Companies in this article