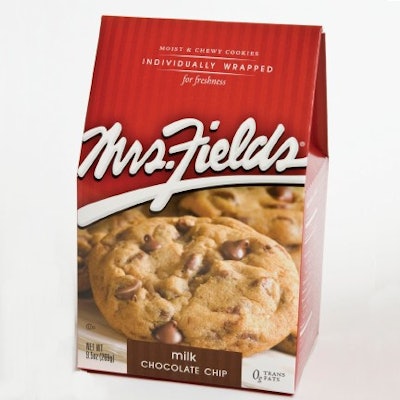 With a booming online business and a brand redesign underway in mall stores nationwide, Mrs. Fields turned its attention to enhancing its retail business by introducing revamped packaging and an improved product.

The new packaging, which began shipping to stores in mid-June, has a look similar to that of the redesigned Mrs. Fields stores nationwide and plays on the nostalgia associated with the brand while adding a touch of luxury and decadence. Tempting product shots jump out from the box, luring customers to bite into the individually wrapped soft and chewy cookies inside.

"It's always been our goal to have the freshest, most delicious cookies available to our customers and we continuously look for ways to improve upon what we offer and to strengthen the customer experience across all touchpoints," explains Leslie Snavely, director of marketing for Mrs. Fields, which is based in Salt Lake City, UT. "When we find a way to improve our product offering, we jump at it, and this package and recipe update demonstrate our ongoing desire to provide the highest quality baked goods."

Queue Creative Marketing (www.in-queue.com) handled the graphics design on the gable-top gusseted-bottom packs, which are supplied by Graphic Packaging Intl., Inc. (www.graphhicpkg.com). The packaging is UV-coated, 16-pt SBS board, offset-printed in five colors. The co-packager is Oak State Products Inc. (www.oakstate.com).

Packaging World also learned the following design details from Neal Courtney, Mrs. Fields general manager, branded retail group:
• A look and feel that communicate "high quality" and "premium."
• An updated background that is simpler, yet sophisticated.
"This helps connect with consumer trends in portability, convenience, and portioning," says Courtney.
• Realistic cookie photography highlighting the primary characteristics of the classic Mrs. Fields cookie—appetizing, premium, moist, rich, chewy, and fresh-baked—while still being true to what the actual cookie looks like.
• Copy that reinforces that the cookies are individually wrapped to extend freshness.
• A substantial presence on the package of the trademark Mrs. Fields red, though a deeper, darker red than was used in the old packaging.
• A revised, more contemporary logo that's large and readable at a distance.
"The idea behind the layout was to make it over-the-top, almost pop-artish, and make it brand-forward," adds Courtney.
• Photography and visuals that tie the packaging to the Mrs. Fields mall shops to leverage the fresh-baked equity.
• Added messaging to educate consumers that the products don't contain trans fats.
The seven product varieties in the retail line include Milk Chocolate Chip and Oatmeal Raisin with Walnuts. Each package, which contains eight individually wrapped cookies, retails for $3.19.




Companies in this article
Videos from Graphic Packaging International