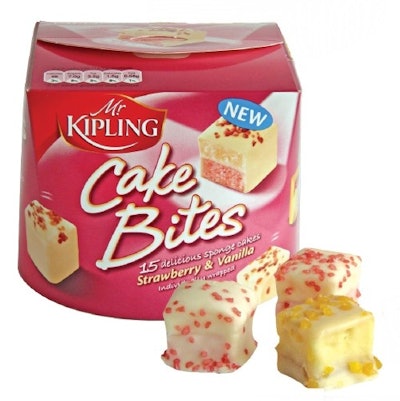 Premier Foods is using a flip-top Sono-wrap paperboard package from
Sonoco
(
www.sonoco.com
) to launch its new Mr Kipling Cake Bites—bite-sized individually wrapped sponge cakes.
Each of the six-color, litho-printed, cake-shaped packages designed and produced by Sonoco contains 15 Cake Bites. Launching in June, Mr Kipling's Cake Bites are available in three flavors: Strawberry & Vanilla, Lemon, and Caramel.
At the customer's request, Sonoco designed the unique, high-performance package specifically for two-high retail-shelf display and to run efficiently through the customer's new filling equipment.
"We are delighted with Sonoco's total packaging solution," says Rachel Pirt, senior brand manager, Mr Kipling Innovation, Premier Foods, St. Albans, Hertfordshire, U.K. "Sonoco's vibrant, flip-top Sono-wrap cans really help the Mr Kipling brand break through what consumers call 'the wall of cake' in stores."
The dimensions of the Mr Kipling Sono-wrap cans are 5 1/2 x 5 x 4 in. (140 x 125 x 100 mm). The flexo-printed bases list the Cake Bites' ingredients and nutritional information.
"Premier Foods is the owner of Mr Kipling, which has produced and sold top-quality cake products in colorful, eye-catching packages for more than 40 years," says Kieren France, Sonoco's Premier Foods account manager. "Premier Foods asked us for an innovative package for this new product. We developed and are producing a market differentiating flip-top, single-wrap Sono-wrap package in a completely new size for this important customer."
Companies in this article