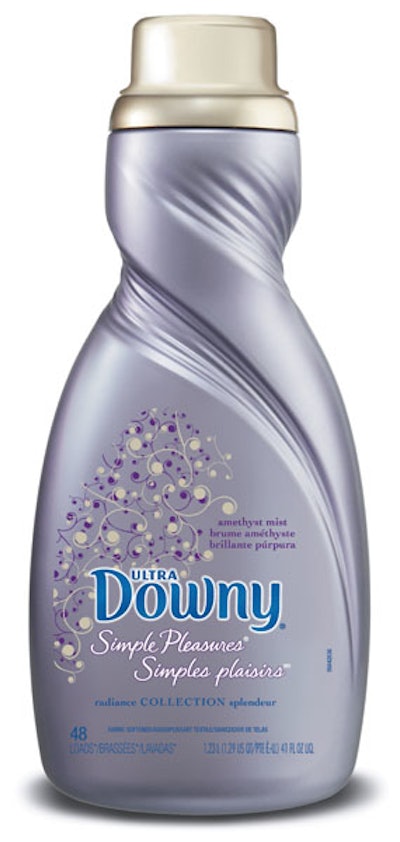 Called the Downy Simple Pleasures Radiance Collection, the products come in a PET bottle luxuriously finished with metallic color for a cosmetics look and feel.
Says Downy Simple Pleasures brand manager Arun S. Kori, the three scents in the line were formulated with the help of external perfume houses and are delivered through a proprietary new technology from P&G called Perfume Micro-Capsules. PMC is said to deposit microscopic capsules of perfume onto fabrics during the rinse cycle that rest within the fabrics when washing is complete. "These aromatic perfumes are released with friction throughout wear, creating a burst of fragrance," P&G explains.
To communicate a sense of pampered luxury for these new products, P&G design managers and packaging experts worked from an existing bottle design used for the company's Simple Pleasures fabric softener brand and evolved the container to convey a more updated, modern feel. The bottle, injection/stretch blow-molded by a proprietary supplier, includes a rippling swath that encircles the body and neck, creating a silken fabric effect. Metallic bottle finishes of lavender, teal, and rose distinguish the three varieties, which are each capped with a two-piece metallic-gold, screw-on polypropylene pour spout, and dispensing cap.
Bottle decoration, applied via clear, heat-transfer labels from a proprietary supplier, includes abstract design elements resembling henna tattoo artwork that "create intrigue and invite consumers to experience the amazing breadth of scents," relates Kori.
Linking fashion with the new fine fragrance-inspired fabric products, P&G coupled the product launch with the Discovering Radiance program, which challenged three emerging fashion designers to create clothing based on the Radiance scents. An online component of the program enabled consumers to follow the designers' progress, submit "mood boards" to help inspire them, and ultimately vote for their favorite designer.
According to Kori, the introduction of the Radiance Collection in February met with great enthusiasm from retailers and consumers alike. "Retailers remain very excited about Downy's ongoing commitment to transforming the laundry aisle into a destination category," he says. "The Downy Radiance Collection is a large step forward to achieving this goal."
The Downy Simple Pleasures Radiance Collection is available in retail stores nationwide in 27-, 41-, and 61-oz sizes for $4.49, $5.49, and $7.49, respectively.
Companies in this article