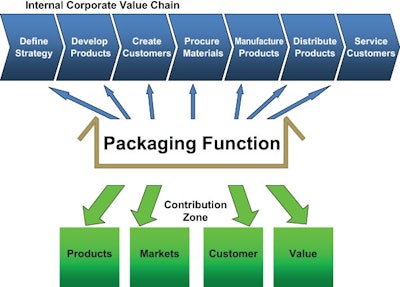 For packaging to be taken seriously as a business function and not just a function, it has to breathe outside the box. Indeed, for packaging to mature as a function it must think beyond cartons and pallets.
We live in a borderless world with constantly changing business rules. The competitive landscape is fiercely global. Every company must now wrestle with four inescapable realities: Mass customization, decreasing customer loyalty, short product lifecycles, and an ever increasing pressure to produce more with less. The need for continuous innovation, efficient supply chains, and fast time-to-revenue has never been greater. Every industry is in transition trying to re-adapt to these four forces.
But there is a lethal fifth reality that occurs within a company and is often invisible. It's known as disconnected departments syndrome, and it's characterized by each function operating mostly on its own. The result is a company full of functional silos and fractional responses. Such a company is at war with itself, a war of the silos. Packaging runs the risk of becoming a philosophical silo.
In 2004 Motorola lost hundreds of millions of dollars when its phones did not arrive on time for the holidays. The video chips that went into the phones were in short supply. Motorola's purchasing group, seeking to reduce unit costs, had chosen a single supplier for the video chips. What they did not consider was the probability of a supply disruption. And yet that's exactly what happened. The chip supplier had production breakdowns and could not fulfill the orders in time, leaving Motorola stranded for its peak selling season.
Kraft lost billions of dollars in market value in the last three years. When its core customers had begun to switch to a more healthful lifestyle, one of less fat and cholesterol, the company barely noticed. Its marketing people reasoned the declining sales could be tackled with more advertising and trade shows. Little did they even realize that Kraft was gradually becoming irrelevant. Obviously they understood classical marketing, but not a changing marketplace.
Internal functions can make or break a company. The efficacy of marketing, sales, customer service, or manufacturing is directly dependent upon how intimately it can connect with the internal value chain.
And packaging is no exception. Can you imagine a company with great products but with flawed fulfillment? Or a company with great marketing but with poor customer service? It would be the same for a company with great products but poor packaging.
I would argue that corporate success is fashioned or frittered on the strength or weakness of the seven links (see diagram). Now companies are forced to institutionalize cross-functional thinking because it's a matter of survival.
So what are the challenges for packaging as a profession? It has to integrate itself to every link in the value chain. What has to happen structurally, educationally, and culturally to effect this metamorphosis? The answers are straightforward:
• Embrace supply chain consciousness
• Expand its confines to establish clear contribution to a company's products, markets, customers, and value
• Adopt a systems approach to educating the next generation of packaging professionals.
I've had the opportunity to deliver two speeches to IoPP's Chicago Chapter, and both times I advised that full business understanding should supersede functional mastery. Even sustainability, it seems to me, should be treated as an initiative that's interconnected with the rest of the enterprise business initiative rather than as some isolated packaging responsibility.
Forests first, trees later; business understanding first, boxes and cartons later. Packaging must evolve or suffer being boxed in.
Companies in this article