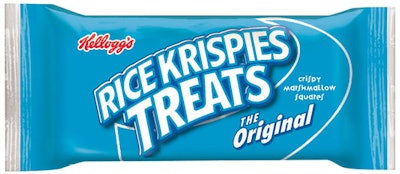 Today, Rice Krispies Treats squares are the company's best-selling packaged snack in North and Latin America. Since introducing the treats, Kellogg, the world's leading cereal producer and a leader in cereal bars, launched the highly successful Nutri-Grain bars (in 1991) and its latest offering, the popular Kashi bars, which debuted in 2005/2006.
Until recently, these snacks were packaged using conventional cold-seal technology, which involved laminating a reverse-printed oriented polypropylene clear film to a metallized OPP web. However, since Kellogg switched to a lamination of metallized OPP and clear polyester films that are packaged using a heat-seal process, the company is enjoying notable benefits relating to sustainability and productivity.
"We view the transition from cold-seal to heat-seal film technology as a great success story for Kellogg, particularly in terms of sustainability and productivity," states Dale Dolence, manager COGS (Cost of Goods Sold) Packaging Innovation & Technology, Kellogg, Battle Creek, MI. "Less packaging supports our sustainability efforts; shipping is reduced, and we're operating more efficiently."
Kellogg also eliminated the potential for off-flavor odors caused by cold-seal adhesives. In addition, since the creation of a finished package that is less stiff, the company is now able to insert individually wrapped packages into cartons more easily. Kellogg's new films were developed and manufactured by Toray Plastics (America), Inc. (www.torayfilms.com).
Rethinking the Package
The use of cold-seal technology for cereal and granola bars has been an industry standard primarily because it allows seals to be formed almost instantly when two surfaces are simply pressed together, resulting in high-speed packaging lines.
After the lamination is created, the converter carefully applies pressure-sensitive adhesive in a pattern only to those areas of the structure where a seal is needed. The finished package is produced on a horizontal form/film/seal machines (hf/f/s) by inserting the food product between the adhesive pattern, wrapping the laminated film around it, and pressing the adhesive-treated surfaces together. The sealed wrappers are then cut into individual packages.
The cold-seal process does present challenges, however. "While we did not experience any manufacturing disadvantages with the cold-seal technology, latex and synthetic adhesives have the potential to create an off-odor that affects the food flavor. We believed it would be a positive move to eliminate the adhesives," says Dolence.
Additionally, the cold-seal process requires accurate placement of the adhesive pattern, a process that can be difficult and can add to costs. There are also fewer cold-seal process converters than there are heat-seal converters.
At the end of the fourth quarter of 2005, Kellogg decided to reconsider its use of the cold-seal process and to investigate a new solution. "At Kellogg, we continuously challenge ourselves to explore new and alternative ways of doing things," says Dolence who served as project leader and was responsible for film development, planning, plant testing, budgeting, and other aspects of the project.
Making the switch
The Kellogg team recognized that if it were to change to a heat-seal process, it needed to find a film lamination with a seal initiation temperature low enough to permit the packaging line to run at the same high speed as it did using the cold-seal process. "At the time we initiated the project, no such film existed," says Dolence. "During the second quarter of 2006, we approached many OPP suppliers and, after a technical review, decided to proceed with Toray Plastics (America) because of the innovative technical solutions it offered."
Toray developed two unique films to meet Kellogg's needs. One is a 36-ga Lumirror® PA1K clear polyester film. A polyester film is incorporated in the construction because it has a higher melting temperature than polypropylene film. That means the overall lamination has improved thermal stability when compared with a PP-to-PP lamination and allows heat-seal lines to be run at higher temperatures, which means higher line speeds. The Lumirror film was downgauged from a traditional 48-ga to a 36-ga structure to support sustainability initiatives and to improve economics. It also enables further increases in production speeds because there is less film to heat up and, therefore, seals can be made more quickly. In addition, the PA1K film provides a surface on one side that has a low, controlled coefficient of friction, which is a property required for high speed runs, and offers an excellent surface for printing on the other side.
The second film in the structure is 60-ga Torayfan PLSK metallized PP that has an integrated heat-seal layer, which is coextruded into the film rather coated onto it. By manufacturing the film with coextrusion technology, Toray creates a primed film that is thinner than a coated film. Torayfan PLSK has a heat-seal technology with a lower seal initiation temperature, yet with increased seal strength and caulking. This permits higher heat seal run speeds. Combined in a lamination, the Lumirror PA1K and the Torayfan PLSK add up to a thin, durable structure that can be easily run on hf/f/s machines with heated jaws, which press and heat-seal a package that delivers excellent oxygen- and moisture-barrier protection.
Kellogg Nutri-Grain bars were the first product to be repackaged in the new structure, followed by Rice Krispies Treats squares and then Kashi bars. All package sizes were changed, from bite size to bar size.
Planning for Success
The entire process of changing over to a new lamination, including the developing and testing of the films and retrofitting a variety of standard hf/f/s wrappers, involved six different North American production facilities and took up to 24 months to complete. "During the conversion process, we evaluated laminations from a number of different suppliers and compared them with each other," explains Dolence. "We retrofitted one line at each of the plants involved from cold seal to hot seal and ran initial plant testing. Finally, we conducted a full sensory and stability evaluation of the snack bars in heat-seal liners versus cold-seal liners used as a control.
"Initially, we were concerned about the temperatures required to achieve acceptable speeds, owing to a need to drive large amounts of heat through the structure without distorting it. Once the evaluation proved everything to be satisfactory, the engineering work was done to retrofit the remaining lines and complete the transition." Dolence notes that that information on the specific equipment modifications, capital investment, and anticipated payback is confidential.
Sustainable, production, quality benefits
Dolence describes the value to Kellogg gained by switching to the heat-seal process: "Environmental stewardship is an ongoing focus for the Kellogg Company, and while the films involved generally cost more than the cold-seal films, we've achieved major advantages in terms of sustainability issues. By reducing the overall gauge, we gained more material per roll. With more material inbound per roll and pallet, the number of shipments is reduced. We were also able to significantly reduce our annual use of adhesives by several tons, which means less adhesive production and less packaging use overall."
The switch has also improved productivity. "Having the ability to get more material on each roll because of the reduction in gauge and the elimination of the cold seal allows us to do fewer changeovers in the plant," states Dolence. "The ability to have the plants running all heat seal allows for more efficient operations, too."
The switch also prevents Rice Krispies Treats squares from sticking to the liner material. "The same attributes in the old film that allowed the cohesive to adhere also caused the product to stick," says Dolence.
Dolence cites an unexpected benefit in the secondary packaging process. "The reduction in package gauge offers a cartoning improvement," he says. "It is slightly easier to carton now that the finished packages are less stiff."
Given the successful collaboration and benefits gained from the transition to the heat-seal process, Kellogg is expanding its use of advanced heat-seal technology laminations. "The heat-seal process for our products and applications is definitely an improvement in technology compared with the cold-seal process," says Dolence. "We've been pleased to partner with Toray during this development. It not only supplied technical support and expertise, but it also worked closely with us and the converter throughout the entire project. Our next step will be to retrofit our plants in Latin America." That's expected in mid-2008.
Companies in this article