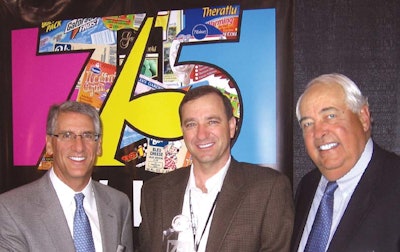 Companies
WS Packaging Group signed a definitive agreement to purchase Seneca-Salem Inc.
KW Plastics formed KW Container, dedicated to the development of closed-loop recycling processes for PP and
PE resins.
Alcan Packaging Food Americas completed the expansion of its Neenah, WI, Technical Center. The $1 million expansion of the 115,000 sq' facility consolidates Alcan's customer service with its existing R&D department.
Sato America signed an agreement to acquire TrakIT Systems, Inc., which is now Sato's Integration Solutions Division.
Bosch Packaging Technology entered into a licensing agreement with Paal Verpackungsma-schinen GmbH. Under license from Bosch, Paal will produce cartoners for the food sector, which will be integrated into the packaging lines of both companies.
Spartech Corp. formed a strategic business unit, Spartech Packaging Technologies, that will provide the foundation for future growth in plastic packaging.
Cargill and Teijin Ltd. of Japan announced a joint venture in NatureWorks LLC in which Teijin will acquire 50% ownership of NatureWorks, effective upon regulatory approvals.
Videojet Technologies acquired Prism Inc., together providing systems for track-and-trace applications.
Impress Holdings B.V. completed the acquisition of Amcor Group's Food and Aerosol Can operations in Australia and New Zealand.
Ciba Specialty Chemicals signed an exclusive agreement with Spectra-Kote Corp. for the global marketing of Spectra-Kote's line of WAM™ wax-alternative materials.
The EtherCAT Technology Group established its first North American office in Volente, TX. Joey Stubbs
will manage the office.
People
Glenn Gilly was named president and CEO of Weber Marking Systems.
Balluff named Pat Helm packaging development manager.
Steve Kingeter was promoted to president of Koch Equipment.
B&R Industrial Automation appointed Jerry Golden manager, end users.
Ilene Gordon, Alcan Packaging, was named to Fortune magazine's "Global Power 50," which recognizes the most powerful women executives in international business.
Deborah Galloway joined the Sidel Group as North American marketing manager.
Christine Clancy was appointed customer service manager of Lenze-AC Tech.
Display Pack Inc. appointed Ronald Lubbers director of finance.
Achievements
The Chicagoland Chamber of Commerce and Right Management Consultants awarded Alcan Packaging Food Americas the 2007 Right Workplace Award. Alcan was also awarded the American Meat Institute's 2007 Supplier of the Year.



Companies in this article
Videos from Weber Packaging Solutions