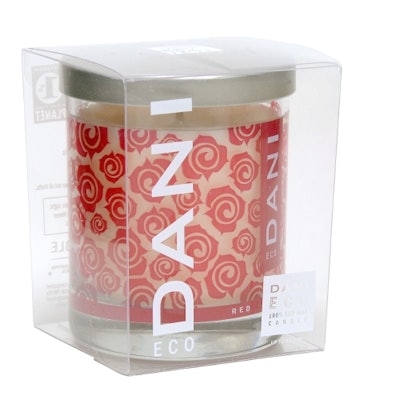 In October 2007, DANI Natural Products, Bend, OR, introduced "ECO" pure soy candles and "ECO" natural reed diffusers, packaged in clear containers made from corn-based polymers. The packaging, supplied by
NatureWorks LLC

,
is biodegradable in a commercial composting facility.
The cotton-wicked, soy candles also are environmentally friendly. Unlike traditional paraffin candle wax, the soy wax is 100% biodegradable and burns soot-free. The candle's glass receptacle bears a recyclable aluminum lid. After the candle is spent, the glass receptacle can be rinsed with soap and water and reused as a drinking glass, bud vase, or for other applications in the home.
In addition, the natural reed diffuser oil, also marketed in glass receptacles, with accompanying reeds, offers an alternative to traditional incense sticks and provides a safe, flame-free way to slowly diffuse and distribute all-natural fragrances throughout a room.
Distributed through various retail boutique locations as well as through the DANI website (www.danibath.com), the soy candles have an average retail price of $17-$18; the natural reed diffusers have an average retail price of $30. Available scents coincide with the color of the container-including clover (green), sandalwood (brown), lemon (yellow), rose (red), currant (purple), and fresh fir (silver).
"We use recyclable, reusable, and environmentally friendly products and packages whenever possible, and we know our commitment to sustainability is appreciated by our customers," says DANI Natural Products president and founder Danielle Easley Nye.
Companies in this article