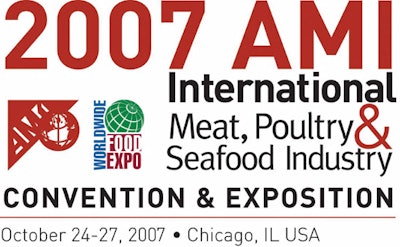 This is the year's largest food and beverage processing and packaging event in the world, with exhibits covering more than 1 million sq' and featuring 1,000 of the world's leading suppliers.
Worldwide Food Expo is the co-location of two events:
• International Meat, Poultry & Seafood Industry Convention and Exposition, sponsored by the American Meat Institute
• Food, Dairy & Beverage Exposition, sponsored by the International Dairy Foods Association
A single badge gets visitors into all exhibits and programming.

Special this year at Worldwide Food Expo is the breadth of educational programming. That includes three hot-topic Super Sessions for executives. There are also nearly 40 broad-ranging food and beverage sessions as well as daily plant operations short courses, which qualify for continuing education credits.
Exhibit hours are 11:30 a.m. to 5:00 p.m. Wednesday through Friday, October 24-26, and 10:00 a.m. to 2:00 p.m. Saturday, October 27.
More than 25,000 attendees from 100 countries will visit Worldwide Food Expo to learn about new technologies, trends, and ideas. Be among them by registering at www.worldwidefood.com.
Companies in this article