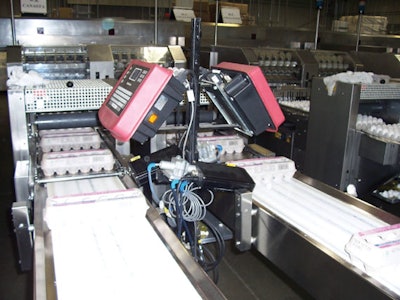 A new and versatile ink-jet printing system from Matthews Marking Products (www.matw.com) is saving Hidden Villa Ranch's largest egg processing facility $1,000/mo in labor and operating costs. It's also giving this rapidly growing Southern California food company the flexibility and reliability it needs to meet future requirements.
HVR has four egg-processing plants. With an output of 10,000 dozen eggs/hr, the San Jacinto facility is the largest. Specialized Selecta egg graders on 10 lines, bought by HVR for $3 million each seven years ago, were originally equipped with mechanical date coders to print two lines of information: the USDA plant number and the sell-by date expressed in both month and date in Julian form on the end of each egg carton. HVR packages graded eggs in both pulp and expanded polystyrene cartons, in 12- and 18-egg sizes.
"For the first five years, these mechanical coders were OK," says Ron Petersen, HVR's plant manager at San Jacinto. "But we began having lots of problems after that. Finally, when the cam action wore out, we had to replace them. It was going to cost $2,700 each to replace 10 coders. It didn't make sense."
Instead, Peterson chose new ink-jet systems from Matthews for all 10 lines. Each system consists of an I-Mark™ SX-32 controller and a 16-valve 3000 Series Midi Drop-on-Demand print head. HVR was, in fact, among the first customers to take delivery of the new SX-32 ink-jet system. Matthews also supplied a fast-drying (1 to 2 seconds) ink, the SCP901A acetone-based ink, which has the added benefit of being a VOC-free formula.
Programming the ink-jet system is done using a simple icon-based user interface. And the total price was not much more than buying new mechanical coders.
Building on past success
HVR has been successfully using another Matthews ink-jet system, with Jet-a-Mark® S.C.I.F.I.™ 3200 controllers, for the past six years to print the packing and sell-by dates on overwraped trays holding 20 and 60 eggs. Both the overwrap marking system and the new carton-marking system use drop-on-demand ink-jet valve technology. These printheads are designed with precision jewels set in a stainless steel faceplate. This and other design features lower ink consumption and reduce costs while prolonging valve life.
The new printers have been a hit at HVR, says Peterson. "They give us lower operating costs and much longer product life, plus the flexibility to adapt to new printing needs down the road. I calculate that I'm saving $50,000 every five years in replacement costs alone—that's $100,000 over the next 10 years. And that doesn't include the $1,000 per month savings in labor and the cost of 'dates.'"
Since the "sell-by" date changes every day—USDA food safety regulations mandate that the sell-by date must be 30 days after the production date—mechanical coders need new rubber character inserts daily. "We had to keep buying new dates," explains Petersen, "because the mechanical coders are contact printers, and the egg carton material scrubbed off the characters. The ink-jet printheads, on the other hand, never touch the cartons. They can print on anything and don't wear out."
There is also a difference in labor cost between the old mechanical coders and the new ink-jet printers. Changing the dates on the old mechanical coders was a painstaking process involving manually removing the old inserts and inserting the new ones with tweezers. In addition, the inserts had to be changed during each day whenever production switched from running pulp cartons to running EPS foam.
"We had to use harder plastic inserts for the dates printed on the foam cartons so that we made a slight indentation on the carton," says Peterson. "Otherwise, the ink wouldn't dry fast enough and it would smear. With the new ink-jet system, all it takes is a few keystrokes on the computer to change the date and the print setup, and the fast-drying ink solves the problem of printing on EPS foam."
Peterson calculates the labor savings to be a couple of manhours every day, and the San Jacinto plant operates five days a week. Between the labor savings and not having to buy rubber dates all the time, Peterson estimates ongoing savings of $1,000/month.
"Seems to me any egg packager with an automated egg grader would want ink-jet printers like these," says Peterson.
—Pat Reynolds
Companies in this article