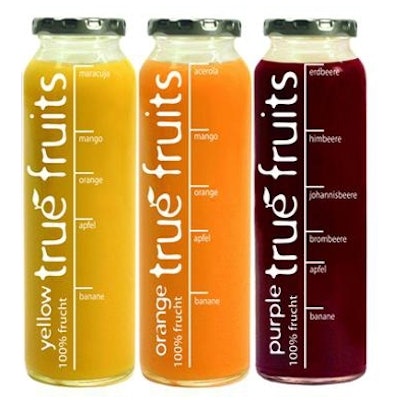 A line of fruit juices called "true fruits" are not only a success with consumers, the novel, 250-mL glass-bottled, trendy smoothie drinks have received three European design awards already. The vitamin-enhanced juice drinks contain no preservatives, sugar, colorings, or added water.

Introduced in late 2006 in Germany, true fruit bottles are marked by printed lines that act as visual indicators of the percent of individual fruit portions within, making unique use of glass' clarity.

Marco Knauf, general manager of Bonn-based true fruits, says, "The glass bottle is an important part of the product. It underlines the quality of the content and stands out strongly from the packaging monotony on the store shelves."

The bottle's unique design and distinct appeal has helped it gain a 72% market share among fruit smoothie drinks sold at German gas station convenience stores such as Esso and Shell. The products are also sold at supermarkets including REWE-Group.

Made from 100% fruit, the products are sold in four flavors. Suggested pricing ranges from 2.50 to 3.00 Euros (about $3.50 to $4.25).
ACL decoration

O-I designed and developed the flint glass bottle, which uses Applied Ceramic Labeling decoration for the ingredient amount lines and graphics. The bottle is topped by a 38-mm twist-off metal closure.

O-I reports that the bottle was developed during a rapid three-month timeline from the concept to bottle production at its plant in Järvakandi, Estonia. Bottling is done by a copacker.

True fruits were created by three students from the Bonn-Rhein-Sieg University of Applied Sciences in Germany. The entrepreneurs were awarded the Confructa Prize for significant innovations in the fruit juice category during the IFW (International Fruit World) conference in March 2007.

In the packaging category, the ACL bottle first won the IF (International Forum) 2007 product design award and then the IF 2007 gold award from the International Forum of Design, one of the world's oldest design competitions. The international judges for these awards liked the fact that "a high-quality printed glass bottle" had been chosen instead of the customary labeled PET bottle thus "focusing on the most important thing…the product."
In late September, the bottle won a third award, this time for "Deutscher Verpackungspreis 2007," Germany's package of the year.




Companies in this article