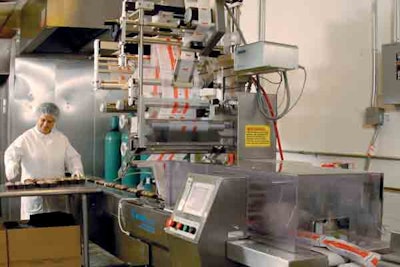 U.S. Medical (www.smartforlife.com), headquartered in Boca Raton, FL, formulates a variety of products (including cookies, soups, puddings, shakes, coffee creamers) marketed exclusively through its 40 Smart for Life™ Weight Management Centers located throughout the United States and Canada.
Among the company's primary products is a line of natural organic diet cookies, available in six flavors (and counting), produced and packaged at U.S. Medical's plant in Wellington, FL. Dr. Sasson Moulavi, chief medical director for U.S. Medical, notes, "These specially formulated cookies are a natural form of hunger suppression and help detoxify the body during our weight-management program."
Upgrading cookie packaging
According to Dr. Moulavi, "To package our cookies, we used to use a heat-seal/heat-shrink machine that had lots of defects, delivered an ugly package, and had no ability to inject nitrogen gas into the package. We wanted the nitrogen gas injection capability to help extend product shelf life because we don't want to use any preservatives in our cookies."
After evaluating various packaging machinery options, U.S. Medical selected a Fuji-Formost Series FW 3200 horizontal flow-wrap machine from Formost Packaging Machines, Inc. (www.formostpkg.com). This easy-to-clean, stainless-steel machine incorporates a built-in modified-atmosphere gas injection system and a built-in resealable label application unit. It also features rotary end sealing, touchscreen user interface, servo motor and timing belt mechanism, and controller storage of product data to assure exact machine settings for easily repeatable product/package set-up.
The machine was installed at the Wellington plant in the Summer of 2007. U.S. Medical facilities manager Anthony Ciotti reports that Formost technicians were extensively involved in the installation, operator training, and equipment start-up. "The Formost team has been very proactive and displayed a 'whatever it takes' attitude to help us accomplish our objectives," notes Ciotti.
U.S. Medical also is considering installing the same type machine at another of its cookie production facilities, possibly in Canada. Says Ciotti, "The Formost equipment solved all our problems and offered greater production capacity to boot. With the old packaging system, we needed two machines to run 30 tray packs of cookies per minute. Now, with one Formost flow wrap machine, we are running 40 packs per minute, and could run up to 160 per minute to accommodate periods of peak product demand."
Package anatomy
Formed from 10-color pre-printed, 54-gauge PVDC/PET/ink/adhesive/ EVOH/PE rollstock film supplied by Master Packaging (www.masterpackaging.com), the 5.5-oz (156g) cookie packages measure 10" long with pillow facings approximately 3" wide, and side panels approximately 1.25" deep. The packages are sealed on both ends, and also incorporate a reseal label flap on the front face.
The Reseal-It™ label unit installed on the cookie flow wrap machine makes a perforation in the front face of the flow wrap film pillow pack and then places a label exactly over the perforation. The resealable labels are supplied by Macfarlane Labels Limited (www.macfarlanegroup.net and www.reseal-it.se). To open the package, the consumer simply lifts the label flap and breaks the perforation. To reclose, the consumer presses down on the adhesive-backed barrier label to preserve the freshness of remaining product.
U.S. Medical-Smart for Life™ COO Damien Fallon explains, "After studying reseal options, we felt the Reseal-It system was the best and simplest choice for our application. The resealable label flap on the top of the package allows our clients to keep the cookies fresh even after they open the pack. We are very happy, and our clients are very happy."
Healthy bottom line
U.S.Medical is very satisfied with the performance of the new cookie packaging system. Fallon says, "The equipment is fast and extremely versatile. We change cookie flavors 2 or 3 times per day, and the changeover is smooth and simple. We also see great potential to use the flow-wrapper for other products beyond cookies because the package width is easily adjustable."
Fallon adds, "We get extended shelf life without using preservatives. We get a superior-looking package. And we're able to get higher production rates and achieve better packaging quality control, while reducing labor costs and packaging material waste. Bottom line: It would have cost us more NOT to buy this machine!"
Companies in this article