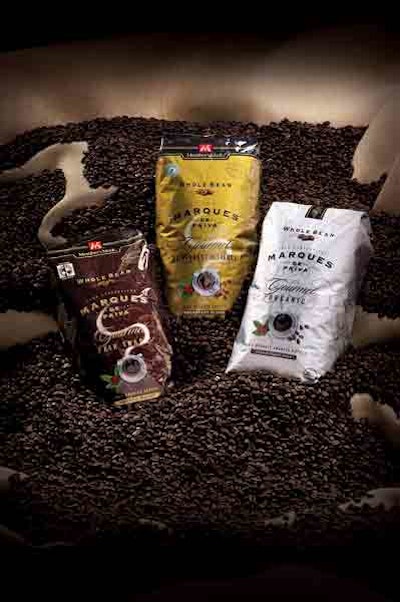 More appealing graphics and typography are helping Café Bom Dia Intl. boost its sales of U.S. coffee varieties and launch its Marques de Paiva brands in Japan.
Redesigned about two years ago with the assistance of Interbrand (www.interbrand.com), bag graphics are a big deal to the Brazilian company whose U.S. headquarters is in Coral Gables, FL.
"Your package is your billboard," explains Joe Alcantara, president of Café Bom Dia. "It presents an opportunity to make an impression. They use this five-foot, five-second rule at Sam's Club where one of its members stands five feet away and in five seconds must 'get it' when he or she sees the pack on the shelf. Since making the change, we have heard from several consumers that our
package drew their attention and caused them to pick it up. So I think the package graphics have been instrumental in getting our coffee tried."
Distinctive photography of a steaming coffee cup now helps deliver the premium quality of the moderately priced brands. Elegant typography and illustration via nine-color gravure printing provides purchasing appeal, while maintaining the original pack's equities of a silver background and black coffee cup.
Café Bom Dia and Interbrand have worked together for several years on different projects. Interbrand's Kathy Hoopes says that when the relationship began, the coffee producer "had a single SKU, and the bag didn't have a distinctive typography, nor did it present an image of a real appetizing cup of coffee. It just did not have the brand equity of the premium brand that this is, which is how Joe wanted it to be positioned."
Packed in Brazil
Today, there are 17 Marques de Paiva coffee varieties in the redesigned bags, converted and supplied by Bemis (www.bemis.com). Interbrand sends client-approved design files electronically for package printing.
No structural changes were made to the bags, which are used for ground and whole bean varieties, in 10-, 12-, and 40-oz sizes. Shelf life is 18 months for all sizes, says Alcantara. Key to that life is a one-way degassing valve that allows carbon dioxide emitted by the coffee to exit the bag without oxygen ingress. "The bags have an easy-open tab with a tin tie for resealability," he adds.
Café Bom Dia's Web site says that its location in southern Brazil is a "vertically integrated operation where coffee beans are grown, picked, roasted, processed, and packaged on state-of-the-art coffee packaging equipment." Alcantara says packaging is done on new vertical form/fill/seal machinery from Goglio (www.goglio.it).
The suggested retail price for the five 40-oz bag offerings is $11.87, $6.99 is the price for the 12-oz sizes and 10-oz decaf. Different sizes and varieties of the coffees are distributed at Sam's Club, Wal-Mart, and HEB stores. "We're launching in Japan, with Interbrand translating graphics for the Japanese market," says Alcantara. "There is no English copy on the pack." Regardless of language, Alcantara is confident that the redesigned bag graphics communicate well with consumers and help strengthen the shelf impact of Marques del Paiva coffees.
Companies in this article