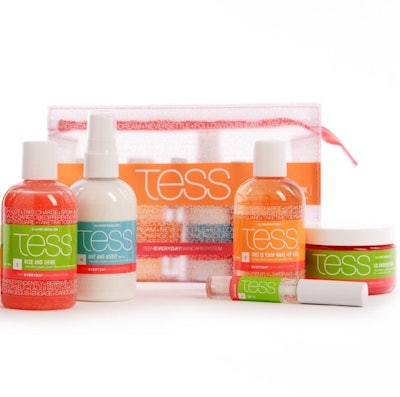 Teen Everyday Skincare System (TESS) was created a little more than a year ago, with its skincare products for teen girls developed by entrepreneurial moms and their teenage daughters, as well as with input from teen girls in focus groups around the country. To appeal to teen girls required not only good products, but also cheerful, modern packaging.

The Cosmetic Packaging Group, O.Berk Co. (www.oberk.com) provides the bottles and closures that meet those requirements. Product filling is done at Englewood Lab, LLC (www.englewoodlab.com). No new equipment was necessary for the TESS products.

"The products are for teens and pre-teens, and we wanted to have packaging that was both attractive and inspirational for these girls," says Susan Shand, CEO and co-founder of Santa Barbara, CA-based TESS. Messages printed onto various packaging components include phrases such as "dare to dream," "speak your mind," and "never settle."

TESS is using O.Berk's 2-oz and 4-oz clear and white PET Boston Round bottles with white disc dispensing caps or fine-mist spray tops, and 4-oz clear PET wide-mouth jars with white smooth-sided caps. Color hues on containers and caps match brand formulations and colors.

Products have a two-year shelf life and retail at Sephora stores and their www.sephora.com Web site, and at www.tessskin.com. Suggested retail prices range from $14 to $48, with some products sold in kits containing multiple products.

"Having spent 20 years as co-owner of the Shand Group, a marketing and branding company, I recognize the importance of the look of the brand is key to its success," notes Shand. "The first thing the consumer sees is the packaging. It sets the tone for what's to come. The product itself is amazing, so the packaging has to portray that."


Companies in this article