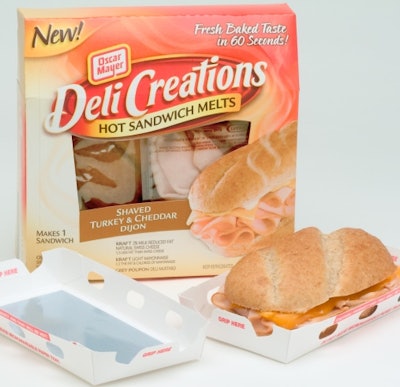 Madison, WI-based Oscar Mayer, a unit of Kraft Foods, has teamed up with
Graphic Packaging International, Inc.
(www.graphicpkg.com) to launch Oscar Mayer Deli Creations refrigerated, modified atmosphere-packaged sandwiches in GPI QuiltWave™ microwave receptor trays.
Introduced into selected markets in January 2007, and rolled out nationally in March, the new line was created to deliver restaurant-quality hot sandwiches in 60 seconds. Each Deli Creations product includes all the fixings for a delicious sandwich, including individually wrapped (the film structure was not disclosed) meat, bread, and cheese, plus pouched condiments (steak sauce, mustard, or mayo). These components are grouped on the QuiltWave tray and packaged in a paperboard overcarton for marketing from the refrigerator case.
A consumer simply unwraps the various components to build the sandwich, then places it in the tray for microwaving. The QuiltWave tray is constructed of PET/adhesive/paperboard/adhesive/metallized PET/release coating. The laminated quilts or pockets in the tray structure expand when exposed to microwave energy, trapping steam as the pockets inflate, and providing close heat contact with the food product.
The specially designed tray enables the bread to achieve a soft, warm consistency, while also warming the meat and melting the cheese ingredient. Working in combination with Kraft's proprietary dough technology, the microwave-heated packaging surface next to the sandwich drives off moisture and warms the bread to a fresh-baked texture without drying it out.
The uniquely shaped overcartons are also produced by GPI. The 18-point solid unbleached sulfate cartons are litho-printed in seven colors, plus glossy coating to attract shopper attention. The carton also incorporates a reverse-cut score opening mechanism for easy consumer access.
Deli Creations are available in five stock-keeping units (skus)-Steakhouse Cheddar, Oven Roasted Ham and Cheddar, Honey Ham and Swiss, Turkey and Cheddar Dijon, and Turkey Monterrey. Oscar Mayer reports that the average retail price of Deli Creations is $2.99, and that consumer reception has been very positive.
Companies in this article
Videos from Graphic Packaging Intl.