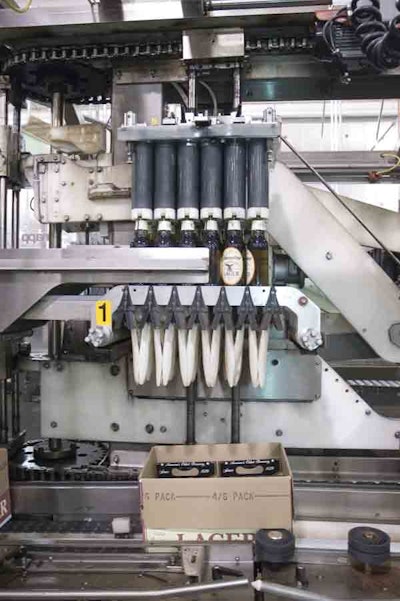 Yuengling Brewery, headquartered in Pottsville, PA, is a fifth-generation family-owned brewery that markets its products in 11 States, but does more volume than some nationally distributed brands such as Samuel Adams.
For its glass-packed beers, Yuengling had been using drop packers from Standard-Knapp, Inc. (www.standard-knapp.com). In March 2005, after about a year of working with Standard-Knapp on the equipment development project, the brewer agreed to install a prototype of Standard-Knapp's PakMore™ high-efficiency rotary case packer. The new state-of-the-art system is a continuous-motion machine designed specially for faster, smoother, softer packaging of bottled products.
Zap-gap infeed
The low-maintenance PakMore machine incorporates innovative pressureless Zero-Gap II™ infeed, ensuring balanced lanes and smooth, jam-resistant operation. This feature helps avert downtime and associated downtime costs. The machine also incorporates quick and simple changeover, automatic fault recovery systems, and Allen-Bradley programmable logic controls from Rockwell Automation (www.rockwellautomation.com).
A dual-axis servo grouper delivers bottles to gripper heads that pick up bottles and gently lower them into a case or tray. The 6-head system can pack up to 50 cases per minute in bottle counts of 6, 12, 18, or 24. The PakMore family also includes an alternative mode that runs production speeds of 75 cases per minute with maximum placement accuracy and minimum bottle damage.
Pottsville plant operation
At Yuengling's Pottsville plant, the PakMore is used to case-pack seven different 12-oz bottled beers in 24-pack cases at speeds up to 40 cases per minute. The bottles are deposited into four 6-pack hand carriers within the cases. These glass bottles are supplied by Owens-Illinois (www.o-i.com); the bottle closures are supplied by Crown Cork & Seal (www.crowncork.com); and the corrugated cases and 6-pack hand carriers are supplied by Inland Container Corp. (www.templeinland.com).
The brewery's owner and president Dick Yuengling says, "The new case packer provides easier handling of the containers with less bottle breakage, less label damage, and higher speed packing."
He adds, "Technicians from Standard-Knapp were totally involved in the installation and start-up of the machine. They offer 24-hour service assistance and extensive machine operation training programs."
Companies in this article