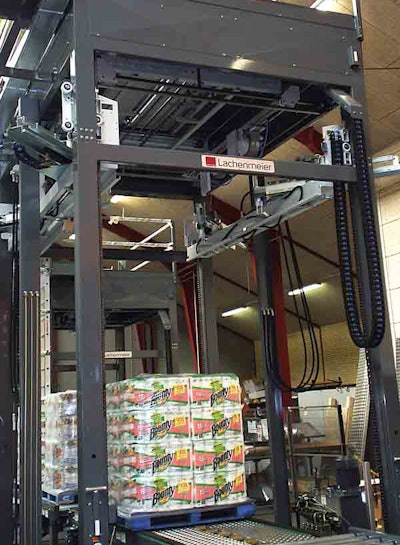 Plant engineers at Procter & Gamble's Albany, GA, tissue plant realized in 2005 that they had reached the limit of their existing method of pallet wrapping. Their wrapping equipment created a bottleneck that kept the Cincinnati-based firm from utilizing the full line capacity of 150 pallets/hour.
Something had to be done, so P&G began investigating other methods of pallet wrapping. It was decided that stretch hooding deserved a closer look. A stretch hood machine applies a full hood made of stretch film over the pallet load.
The project team contacted two of the premier suppliers of stretch hood machines. Both suppliers were given the chance to perform test wrappings with P&G. Lachenmeier (www.lachenmeier.com) successfully passed the test using film as thin as 50 microns (2 mils) whereas the other supplier recommended a film thickness of 70 micron (about 2.75 mils). So a Lachenmeier machine was installed. Now that it's operating at full capacity, the film gauge has been reduced even further to 1.75 mils, bringing additional savings. Making this film reduction possible is a patented controlled film windoff system. It also ensures satisfactory load stability without compromising the integrity of the load, which consists of soft rolls of paper tissue.
Film consumption, however, was not the only factor that influenced P&G's decision to purchase the Lachenmeier system. Line speed requirement was the initial driver that got the project off the ground, and Lachenmeier was able to guarantee a capacity that exceeded the potential line speed of 150 pallet loads/hr. The Lachenmeier system is rated at 180 pallet loads/hr.
Other parameters
Ease of maintenance, around-the-clock professional service support, and ease of operation were also important parameters that were taken into consideration during evaluation of the machinery options.
Having carefully studied all parameters, an educated decision was made to place the order with Lachenmeier. During the installation phase, P&G engineers worked closely together with a Lachenmeier project team to ensure that the system would live up to the P&G requirements for operator safety, component choice, and ease of operation. Safety is a top priority at all P&G plants.
The Lachenmeier system has been in operation since January 2006, and P&G has gathered enough experience with stretch hooding to establish numerous advantages to this method of pallet wrapping:
• With stretch hooding, the film cost per pallet remains constant. With spiral stretch wrapping, on the other hand, the operator can always apply a few extra layers of film "just to be safe." Accurate cost tracking and budgeting are now easier than ever.
• Another advantage is that the strech hood system will wrap 1,500 to 2,000 pallets between film changes. This is roughly eight times longer than a spiral stretch wrap system. This of course increases performance and lowers labor cost.
• The Lachenmeier stretch hood machine applies a full stretch hood. This eliminates the need for a separate paper top sheet. This in turn makes for a cleaner-looking package and eliminates the costs for the top sheet.
• The clear film provides good product display, which is especially important in club stores where the pallets are displayed in exactly the same format and condition as they left the plant.
Steve Dapper, P&G paper products engineer, says the research that led up to the purchase and installation of the stretch hooding system was time well spent.
"The machine is now operating reliably at our facility and runs 24/7 with almost no personnel interaction," says Dapper.
Companies in this article