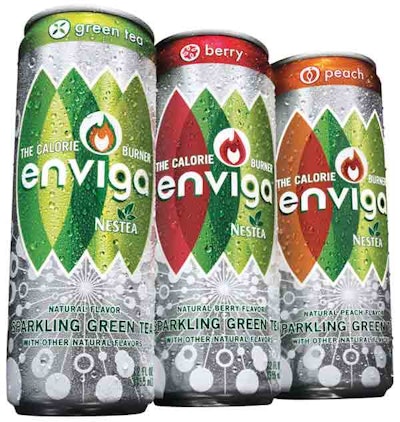 Functional foods are on fire. Well, at least some of their packages are, like Enviga, the new calorie-burning drink from Coca-Cola Co./Nestlé S.A, which boasts a graphic flame set into green tea leaves on the package's primary panel.
Enviga is one of the most prominent new additions to the functional foods category. Marketers spike these foods and drinks with dietary supplements, minerals or other natural ingredients in order to make either a structure/function or health claim.
Enviga contains green tea extracts and caffeine leading to its claim that drinking three cans per day results in the consumer burning more calories than he or she gains by consuming the drink, the so-called "negative calorie effect." The drink is being introduced in test markets in the New York City and Philadelphia metro areas and is set to launch nationwide in early 2007.
'Loud labels'
The packages for these products are often visually stunning, as are their label claims, according to consumer groups who are trying to convince the Food and Drug Administration to hose down the category's loud labels. The FDA has sent warning letters to a few companies such as Masterfoods, a Mars candy division, whose Cocoa Via chocolate bars drew the FDA's attention because of label claims trumpeting their heart benefits.
Mars calls its CocoaVia line "heart healthy snacks" because they are formulated with cocoa flavanols, which are antioxidant compounds thought to influence factors associated with clotting that promote a healthy blood flow. Mars says some studies suggest that cocoa flavanols can improve the health of blood vessels and reduce the oxidation of LDL cholesterol that can lead to clogged arteries.
According to research firm Euromonitor Intl., the U.S. packaged functional/fortified foods market was worth $6.3 billion at retail in 2005, and is expected to grow to $7.6 billion by 2010. That vitality helps explain why Anheuser-Busch Inc. recently agreed to allow some of its wholesalers to distribute Hansen Natural Corp. energy drinks such as Monster Energy, which has been on the market since 2002.
The Monster drink, whose packaging looks like it was designed by Count Dracula, contains such things as panax ginseng root extract and guarana seed extract.
Consumer groups have complained that these foods and drinks contain ingredients that have not been approved by the FDA for use in that product, or because its label claims are outside FDA-approved boundaries.
Challenging copy
On May 31, 2006, for example, the FDA sent a letter to Masterfoods USA saying Cocoa Via's claim that it "Promotes a Healthy Heart" is "false and misleading" because of high levels of saturated fat in the products. In addition, the agency complained that folic acid, which is used in the chocolate bars, is not sanctioned by the FDA for use in candy products.
Marlene Machut, director, health and nutrition communications, Masterfoods, says the company responded to the FDA in July and is still talking with the agency. No changes to the Cocoa Via label have been made. "We are still confident the Cocoa Via product is safe, and the claims are truthful, nonmisleading and fully substantiated," she says.
FDA concerns about specific functional food label claims and a 2005 report and recommendations from the Institute of Food Technologists (IFT) apparently convinced the agency to examine more closely a Citizen Petition submitted by the Center for Science in the Public Interest in 2002. A public workshop was held in December.
Prenotification?
The CSPI petition basically echoed recommendations issued two years earlier by the Government Accountability Office (GAO). The Ralph Nader-affiliated CSPI wants the agency to require companies to submit new functional food products to the FDA prior to marketing so the agency can check the safety of the "novel" ingredients for their effect on a consumer's diet. The CSPI also wants the agency to outline explicit guidelines for scientific evidence necessary to make structure-function label claims, such as Enviga's reference to calorie fighting and CocoaVia's allusion to LDL cholesterol.
Currently, foods that make structure-function claims can do so without FDA prenotification or approval as long as the company amasses sufficient scientific information to back its claim. The FDA can investigate that evidence, if it wants, and overturn the claim. But that rarely happens.
Even some food groups admit that the current regulatory system doesn't fit well with functional foods. Barbara Petersen, a spokeswoman for the IFT, explains that current FDA requirements for structure-function and health claims for foods rely on the link between the food's nutritive value and the claim.
However, functional foods base their claims not on their nutritive value, but on the herbs, minerals or natural substances added to a conventional food to give it added punch. Petersen says the FDA should establish a policy that health claim benefits for functional foods be based on "nutritive value or through the provision of a physical or physiological effect that has been scientifically documented or for which a substantial body of evidence exists for plausibility."
Unsupported claims
At the same time, Petersen concedes that the IFT does not support some claims on foods marketed today because they are not supported by today's science. But she adds, "In view of current regulatory policies, some food label claims cannot be factual and accurately represent the science."
No matter this regulatory uncertainty, companies continue to rush new functional foods into the market while pushing their labels and package claims to the outer limits of FDA's current rules, and sometimes beyond. Ray Crockett, a spokesman for Coca-Cola, explains that the company can make a structure-function claim for the product, "the negative calorie effect" because it has the scientific evidence to back it up.
That consists of a study done by the University of Lausanne, in Switzerland, which will be published in 2007 in the journal Obesity. Crockett adds that Enviga "is not a magic bullet. It is a small step people can take in combination with regular exercise, and a balanced, varied diet."
The CSPI argues that the studies upon which Coca-Cola bases its claims are "inconsistent, short-term and industry-funded," and therefore not appropriate for a structure-function claim. "The Enviga claim is not definitive," says CSPI senior staff attorney Ilene Ringel Heller. "Consumers are being ripped off."
Patricia Verduin, senior vice president and chief science officer, the Food Products Assn., says there is no need for the FDA to create a separate regulatory scheme for functional foods, nor to screen the use of novel ingredients prior to their appearance in a particular product. "Robust enforcement, rather than new regulations, will continue to ensure the integrity of conventional foods with functional benefits," she states.
Companies in this article