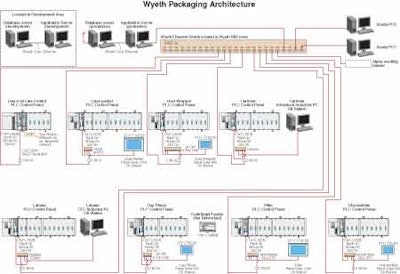 What better opportunity to implement new and improved controls technologies than the installation of a brand new packaging line? So when Wyeth Consumer Healthcare, a leader in nonprescription medicines such as Advil, Robitussin, Dimetapp, Chapstick, Centrum, and Preparation H, laid the groundwork for not one but two new liquid filling lines in its Richmond, VA, facility, management viewed it as a great opportunity to get significantly better at data acquisition. A key goal was to be able to calculate Overall Equipment Effectiveness. Typically known by its acronym, OEE is a measure of three machinery factors: availability, performance, and quality.
"The project sprang from a desire for better metrics that could be more automatically generated where our manufacturing processes were concerned," says Brad Neuroth, controls engineer at Madison, NJ-based Wyeth. "Remember, these were two brand new packaging lines, which were designed for higher speeds and greater throughput. We wanted to be sure we got the output we'd paid for. On the older lines we just didn't have the best means of tracking downtime, faults, or OEE. So with the start up of these two lines, we wanted to automate a lot of data collection that, in the past at least, hadn't been done all that well."
While maximizing asset utilization was the key goal, it's interesting to note that a secondary goal was more personnel oriented.
"Our compensation process includes a consideration of line performance," says Neuroth. "The feeling was that if we had better methods of measuring, we'd be better positioned to provide the proper compensation."
Neuroth doesn't identify the line integrator behind the two new packaging lines or the suppliers of specific machinery, software, or automation products. But even without supplier names and Web sites, Wyeth's story is worth recounting because it's a vivid reminder of how important data acquisition has become in today's packaging scene. Part of this story Neuroth shared with those who attended the May 24th Packaging Automation Forum in Chicago, sponsored by Packaging World and Automation World. In a follow-up telephone interview a month or so after PAF, Neuroth elaborated on data acquisition strategies identified and lessons learned as the two liquid lines were designed, installed, and commissioned.
Essential layout
The diagram here shows the essential layout of both lines: unscrambler, filler, capper, dosage cup placer, labeler, cartoner, overwrapper, and case packer. It also shows the network of communications links that tie the line together. The goal from a data acquisition standpoint was to monitor line performance and communicate that performance to a metric server.
"Our automation goal was to measure performance, not to improve it," says Neuroth. "We wanted to know where we stood with OEE, partly because a focus on that kind of operational metric is a growing trend in our industry. We wanted to measure first, then automate second. That way, our future automation projects can be evaluated more effectively and we'll be able to tell what the benefit is once the automation implementation is complete."
On whom did Wyeth rely when it came time to bring performance measurement to the two new lines?
"There were a number of places to look, "says Neuroth. "We had a history with some of the packaging OEMs who are prominent in the lines, and some of those OEMs had relationships with each other and with the integrator we ultimately hired to tie the OEM processes together."
An early requirement, says Neuroth, was to work with the packaging machinery OEMs to agree on a single communications protocol, Ethernet, for the crucial exchange of machine-to-machine information. "We didn't want to have multiple communications protocols," says Neuroth. "By standardizing on Ethernet, it became easier for machines to communicate."
Another issue that had to be settled early on revolved around what Neuroth calls the "touch points between the different packaging machines." He explains.
"The sensors at the discharge of one machine don't always communicate readily with the sensors on the infeed of the next machine. Yet this is information that both machines should be able to exchange."
To prevent such a communications breakdown, Wyeth spoke early on with the machinery vendors to make sure each was using the same PLC from the same controls supplier. "That part was challenging enough," says Neuroth. "But we also had to make sure that they use the PLC that's Ethernet-enabled, and that their operator interface terminal was ready for an Ethernet connection."
The next level of control
With machine-to-machine communications established, it was time to specify machine-to-line-control communication. Here again, an Ethernet connection was key. In the diagram shown here, the PLC in the middle layer at the far left, which is marked "Line #62 Line Control PLC Control Panel," is a data concentrator. Thanks to Ethernet connectivity, it polls all the other machine-mounted PLCs for information and then serves as a conduit to higher-level information systems much as SCADA (Supervisory Control and Data Acquisition), MES (Manufacturing Execution System), the process historian, and Wyeth's OEE system. It also has another important function.
"The line control PLC, " says Neuroth, "in addition to serving as a data concentrator, also synchronizes individual machines on the line. The line runs according to the state of the filler. If there's a jam at the cartoner, there is an upstream surge area after the labeler into which bottles will be accumulated so that the filler can continue to run. Once the cartoner jam is cleared and the cartoner is restarted, the Line Control PLC recognizes that there is more material in the surge than is necessary, so it automatically speeds the downstream equipment up to clear out that surge. The idea is to keep the filler running. The Line Control PLC puts the downstream machines into an overspeed mode to accommodate the surge."
But it's the Line Control PLC's ability to serve as a conduit of OEE data that really satisfies Neuroth. Now available to both management and operations people who log onto a Web site are up-to-date OEE reports published regularly. Taking it a step further, a scrolling banner is mounted over each line so that current OEE, or bottles per minute, or the next lot number scheduled for production can be displayed for all to see.
"You can configure the scrolling banner to display whatever information you want," says Neuroth. "The supervisory people in particular like that quick look rather than having to walk up to a SCADA terminal and navigate through some screens to find the information they're looking for."
When it came to OEE reports, Wyeth wanted them for both individual machines and for the line as a whole. "We think this brings us a better analysis of what our efficiency issues really are," says Neuroth.
"One of the things we found," he continues, "is that many times when you say to an OEM, 'Give me a list of the faults in your machine,' you might get a list showing 400 faults. The sheer volume, however, makes it difficult to correlate them or group them in a way that provides real, meaningful information. It would help if we were given more streamlined fault reporting. More fault prioritization would be welcome, not just a long litany of faults provided by a PLC."
Canned vs custom
Another valuable lesson learned, says Neuroth, is that when it comes to OEE, "canned" reports make more sense than "custom."
"The OEE tools we have in place provide a wealth of information right out of the box," says Neuroth. "Initially, there was a great desire to customize the data into reports done just the way we at Wyeth wanted them done. But we realized gradually that this kind of customizing has some downsides. For one thing, the more you customize, the more difficult it is in the future to upgrade to the next release of a controls supplier's software. And besides, if 80% of the reporting functionality you need is already available right out of the box, why pay for that final 20%?"
Wyeth's next steps in automation, says Neuroth, can build upon the data acquisition and OEE network that is now in place. For example, currently the Line Control PLC isn't integrated with Wyeth's ERP (Enterprise Resource Plan) system. But that kind of connection—by way of the MES (Manufacturing Execution System) layer—is now being looked at. It will bring Wyeth to a whole new level of enterprise-wide information exchange.
"Tighter integration of packaging with our electronic batch records is another goal," says Neuroth. "We'd like to automate this a good deal more."
Another key area for improvement at Wyeth is in its change control process as it relates to automation software, says Neuroth. As an FDA-regulated company, Wyeth is required to control any change to any established process—meaning the change has to be recorded, reviewed, and approved by the quality control unit.
"Change control process is critical," says Neuroth, "and right now for us it's largely a manual, paper-based process. But we're looking at ways to automate it and do it in a more robust and secure manner. These automation goals are in alignment with what the pharmaceutical industry is hearing these days from the FDA."
Much of what Wyeth hopes to achieve in the way of automation will depend heavily on supplier support.
"We don't invent packaging equipment, we invent products," Neuroth told his PAF audience. "Packaging equipment is what lets us get our brands out there. So we'll really need improved support from our packaging machinery OEMs. We need a better automation support model. We want to do more with standards-based designs, with pre-validated modules that will let us avoid having to go through time-consuming and expensive re-validation every time we make the slightest change."
With OEE calculation and reporting firmly in place, all of these future steps, says Neuroth, can be taken more easily.
Companies in this article