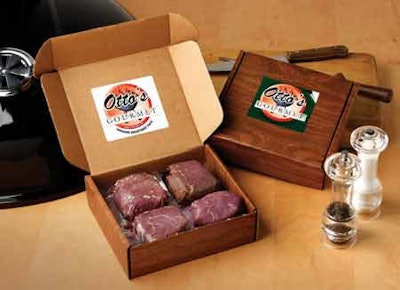 Otto's Gourmet Meats, Flint, MI, processes and packs a broad range of meat products—including several varieties of beef, pork, lamb, and sausage—for restaurant and foodservice operations throughout the United States. The company ships these products in corrugated boxes supplied by Michigan-based Landaal Packaging Systems (www.landaal.com) with box labels supplied by General Tape & Label (www.gentape.com).
Recently, the meat packer has begun to diversify its customer base by adding gift box meats for industrial accounts and for individual consumers (through a newly constructed website (www.ottosgourmet.com). The digital printing technology capabilities of General Tape & Label have helped facilitate Otto's move into these new marketing arenas.
Flexible and fast
In October 2005, General Tape & Label installed a new Indigo Model ws4050 digital press from HP (www.hp.com) that provides the speed and versatility to produce cost-effective short runs of specialty labels for its customers. These on-demand custom labels offer the opportunity for label customers to target specific products to seasonal markets (for example, Christmas, Thanksgiving, Oktoberfest) or demographic markets (such as Polish, Hispanic, teenagers) in a cost-effective manner.
The new press, which works on line in tandem with label converting equipment, handles web widths up to 13" wide at speeds up to 44' per minute for 4-color print jobs. Typical turnaround time for the Otto's Gourmet Meats pressure-sensitive film labels is about 7 days on a non-emergency basis. In emergencies, label turnarounds can be accommodated within 24-48 hours.
Supply reliability
According to Dennis Liebold, vice president/general manager at Otto's, General Tape & Label's digital printing capabilities have been highly instrumental in the meat packer's successful move into gift box marketing. The 4-color process-printed paper/film label structures vary based on specific product application. But typically they incorporate a 2.6-mil layer of biaxially oriented polypropylene with a 1-mil ultra-clear polypropylene over-lamination. The labels are color-coded according to meat type (for example, red for beef products), and are manually applied to the gift boxes and shipper boxes.
Says Liebold, "The appearance of the labeling is excellent. It reinforces the premium quality image we strive for with our products. And General Tape & Label is a great label supplier. The service is fast and reliable and never leaves us hanging."
Companies in this article