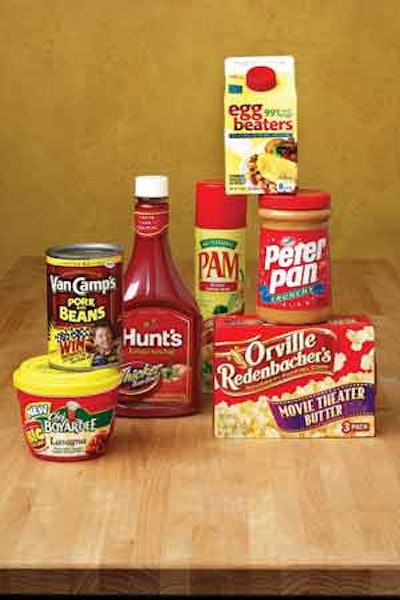 ConAgra Foods Inc. is one of the largest packaged foods companies in North America, with a major presence in retail outlets as well as foodservice institutions, and is one of the top 100 suppliers to Wal-Mart.
Headquartered in Omaha, NE, they have over 150 manufacturing sites and fiscal year 2006 sales of more than $11 billion. ConAgra Foods offers many favorite consumer food brands and popular items across a variety of food categories and channels. More than 30 percent of ConAgra Foods brands are number one in their category, and these brands are in 96 percent of U. S. households.
Some major consumer brands include Hunt's ketchup, Peter Pan peanut butter, Orville Redenbacher's Smart Pop popcorn, Banquet, Healthy Choice, Marie Callender's, Egg Beaters, Kid Cuisine, Chef Boyardee, Swiss Miss, Van Camp's, and Hebrew National.
Over the last several years, ConAgra Foods has transformed itself into an effective and responsive, industry-leading, branded, and value-added food company. ConAgra Foods was one of the first companies to comply with the Wal-Mart RFID mandate and is now one of Wal-Mart's top food-products suppliers with high volume tagging, with more than 500,000 cases tagged since January 2005. In fact, ConAgra Foods received top supplier recognition from Wal-Mart in 2005.
The Wal-Mart mandate arrives
In November 2003, Wal-Mart informed its top 100 suppliers about its pending RFID mandate. While exciting ground was being broken, it did not change the overriding notion of Wal-Mart suppliers that a lot of money had to be invested with no tangible return-on-investment in sight.
"However, choosing to move forward was an easy decision for ConAgra," says Phillip Hubbell, manager of business analysis RFID. "Not complying with this very important customer was never even a consideration."
So in mid 2004, ConAgra began a very proactive, collaborative effort with Markem Corporation (www.markem.com) to delve into RFID and learn together before the Wal-Mart RFID mandate went into effect. The team at ConAgra Foods emphasized that the team's first priority was to understand exactly what their customers were looking for to satisfy their requirements, facilitating case tagging in the most accurate, efficient, and consistent way.

Phase 1: First tagging line goes live
The project began with pilot plant testing to determine tag selection and placement. John Foelker, RFID Team Leader for ConAgra Foods, was the driving force for getting this project underway bringing his considerable technical knowledge of RF technology and networks to bear on the challenges for this effort. Actual on-site testing and development on this joint project began with a line in ConAgra Foods' Fort Worth, Texas, distribution center in conjunction with their third party logistics partner, AmeriCold Logistics. This facility was chosen because it was the distribution center that supplied the Wal-Mart distribution centers near Dallas. Markem's semi-automated RFID distribution center tagging solution was chosen to help achieve ConAgra Foods' goal by applying the tags on cases in exactly the same place, every time. The tagging position could also be changed for different SKUs, and the first products chosen for tagging were popcorn, condiments (such as ketchup packets), peanut butter, and cases of tomatoes, including small and gallon-sized cans.
"You can do all the lab testing you want, but you can't test all the inefficiencies you have on the line until you've really put it through production and that's what we saw here. We had until January 5th to bring tagged product to Wal-Mart and we knew we needed to tag six SKUs."
The obstacles overcome and key lessons learned were:
• Placement of the tag was critical and varied from SKU to SKU
• In a DC, outside radio interference can be a significant issue
• Placement of RFID antennas for initial encoding and downstream verification was critical for coding and reading
• Quality of tag conversion is essential to increasing tagging yield
• Material handling and product positioning with varying SKUs were very important
Crucial to the successful deployment of this RFID technology for ConAgra Foods was the RFID application experience of all the companies involved in the project.
The first line started on time and scaled up throughout February and March with many of the most difficult products for RFID-tagging. "We evaluated the first line after getting it started for the January deadline and doubled the SKUs in February and March," said Hubbell. "So eventually we had 18 SKUs and were averaging about 40,000 cases per month. We were doing ten percent of Wal-Mart's total volume in February 2005."
Phase 2: A 2nd line enables scalable RFID tagging
Even before the first line was deployed, the scope of Wal-Mart's mandate continued to escalate and other clients such as Albertson's and Target began mandating their own RFID tagging. As a result, ConAgra Foods issued a request for proposals to the open market for a second RFID label/applicator system for an additional tagging line. They were looking for a total RFID software, hardware, and services solution. The line two project requirements included throughput of up to 4,000 cases a day. The line needed to be able to reject bad tags at the applicator and also verify tag readability downstream on the line, rejecting tags that didn't read properly. The system also needed to scale up to 100 percent of ConAgra's SKUs. To meet customer needs, ConAgra Foods selected MARKEM as its key supplier for this project.

ConAgra Foods looked at five or six suppliers that had submitted bids. The key reason for selecting Markem was because ConAgra already had a relationship with Markem and had established trust with the company.
Lessons learned from the first line were applied to the second line. An automated product reject system was added to the system as well as new conduit and electrical designs that minimized potential RF interference.
"The second line also needed to have increased capacity, satisfy requirements of different customers, and have the ability to capture more data," explains Michael Snyder, systems coordinator for AmeriCold Logistics, who was in charge of operating the system.
ConAgra Foods went live with the second line in April 2005, running only SKUs for Wal-Mart, then extending it to SKUs for Target and Albertsons. "Now we are running multiple SKUs for Wal-Mart, Target, and Albertsons and shipping to seven distribution centers. We've run more than 500,000 cases to date and 40,000 cases per month," said Hubbell.
The improvements in the design of the packaging line equipment and controls also allowed ConAgra Foods to operate with two rather than three operators. Overall it was a highly successful RFID implementation and an example of ConAgra's exemplary customer service.
The RFID tagging system components
The ConAgra de-palletizing and re-palletizing RFID case and pallet tagging system includes:
• Markem CoLOS™ RFID Software (controlling software for device and line management and EPC allocation; ERP/WMS integration)
• CoLOS Control operator panel—industrial PC user operator panel to provide input
• CoLOS Manager—interface to management of master database table information such as items, orders, and authorized users
• CoLOS Report—detailed production reports
• CoLOS Allocate—EPC number allocation
• CoLOS Sync—interfaces to other information systems
• Markem Cimjet RFID encoder/applicator—built-in RFID encoder and tag reader for verification and rejection of bad tags
• Sensors linked to CoLOS Control—which controls and manages the photo eyes to interface to printer devices, PLC sensors, and conveyor control components
• RFID reader/verifier—optional external RFID reader for final RFID tag verification; could be utilized to initiate optional case reject or line diversion in the event of damaged tags
• Zebra (www.zebra.com) RFID printer for pallet labels—automatic RFID pallet label generation after a pallet has been stacked; controlled by CoLOS software
• Bar code reader linked to CoLOS Control—fixed or wireless handheld bar code scanner linked to CoLOS databases can update information on demand; used to capture case to pallet association
• Flatbed conveyor and controls
As for Markem, the firm is providing and continuing to develop products, application solutions, and services to support distribution center and manufacturing facility packaging lines for product, case and pallet labeling, and serialized tracking and tracing solutions. The 800 Series high speed Gen 2-compliant RFID Applicator is designed for high speed manufacturing line applications. The 800 Series high speed applicator with automated tag rejection can tag up to 100 cases per minute and handle multiple RFID tags, including on-pitch inlays.
It is Markem's view that RFID tagging will move to manufacturing facilities in the long-run. Today in North America, many cases and pallets in the supply chain are not serialized. RFID lets companies leapfrog serialized bar codes and move to unique identification. This will enable many track and trace applications, including recall scope and time reduction, inventory reduction, and better regulatory compliance.
Markem has built a traceability software infrastructure so that RFID can be used for traceability. Markem provides a complete packaging line solution for device management, and product data management, line management, template management, reporting, and serialized product-case-pallet traceability. Solutions include integration software to interface with other control, production management (MES), ERP, and warehouse management systems.
While most companies in the food and beverage and other Consumer Packaged Goods (CPG) industries have automated their product processing operations, many have yet to gain the benefits of effectively automating their packaging operations and integrating them with their other manufacturing and business operations. ARC sees many companies still in need of more reliable and granular tracking and tracing systems, like the MARKEM CoLOS system. Benefits include improved manufacturing efficiency, responsiveness and minimization of the potential business and financial impact that a major product recall might pose in this age of instant information.
Editor's Note: ARC Advisory Group's John Blanchard (jblanchard@arcweb.com) is principal analyst concentrating on the advanced control and enterprise integration needs of the batch processing industries, including packaging line integration and regulatory compliance. The opinions and observations stated in this story are ARC's.
Companies in this article