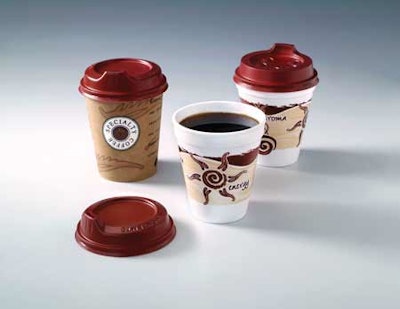 Smart Lid Systems (www.smartlidsystems.com) of Sydney, Australia won a DuPont Silver Award for developing a color-changing disposable coffee cup lid that enhances consumer safety. The lid starts off as a coffee bean brown color, but a thermochromic additive causes it to change to red in its hot state when it comes in contact with steam or hot liquid. Managing director Nick Bayss identifies the lid's three key features:
1. Visual warning to customers that their drink may be hot;
2. Indication whether the lid has been properly seated or not;
3. Opportunity for branding of logo and text on the lid that appears when hot.
The color change is reversible to help users also know when their coffee has cooled, according to Bayss.
The polystyrene lids are molded, along with the thermochromic additive, by Rema Industries & Services Pty. Ltd. (www.rema.com.au), who Bayss says jointly developed the technology.
Bayss says that after four years of development, production has recently begun and lids are being used by local cafes. Bayss says there is interest from chains, too. He says that Europe and the United States both represent hot market opportunities via export likely followed by sublicensing agreements through regional molders. Bayss says the lids carry a one to two cent premium at the wholesale level versus standard lids, but he does not know what the final passalong markup is. He also says other color combinations are possible, so long as the hot color is lighter.
—Rick Lingle
Companies in this article