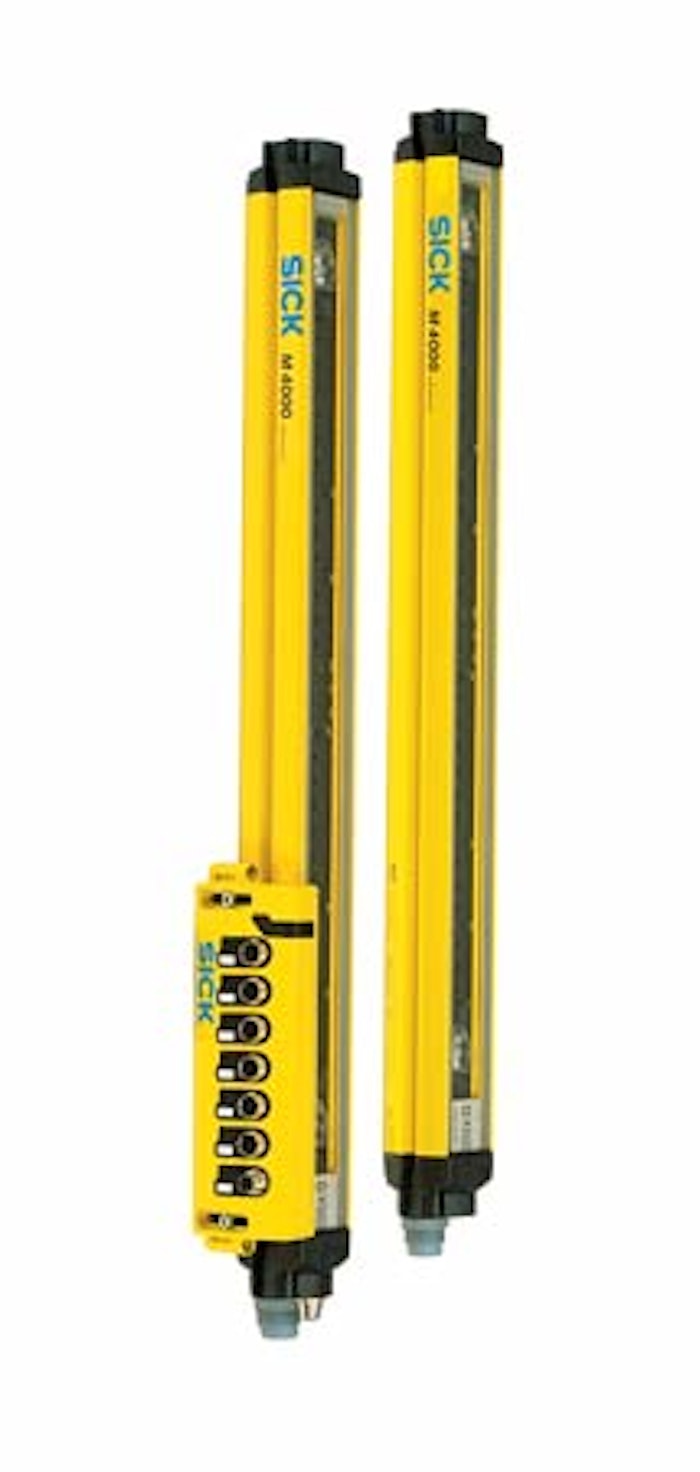 Automated stretch wrapping machines often use a safety device to warn plant personnel not to enter the wrapping zone of the machine while it is in motion. Recently, Lantech (www.lantech.com) installed eight M4000 automatic, conveyorized stretch wrapping systems at the plant of a major consumer products company. Designed to wrap 40 to 60 loads/hour, the machines used a safety light curtain with integrated muting sensors for the entry and exit portions of the stretch wrapping zone.
The customer began experiencing problems with false trips on the machine. They found the stretch film was acting as a reflector to the muting sensors on the light curtain, causing the false trips. These trips shut the stretch wrapping process down, negatively impacting productivity.
They replaced their previous light curtain model with an M4000 Advanced Perimeter Guard with a UE403 Muting Module from Sick(www.sick.com). The entire system includes the M4000, the UE403, four muting sensors, and integral cables. The M4000 Advanced used by Lantech consists of a sender and a receiver unit. Between the sender and receiver is the protective field, defined as the "protective field height" and the "protective field width." The M4000 safeguards access to this hazardous area and signals the entry of objects as soon as a light beam is interrupted. A Sick UE10 Safety Relay controlled by the M4000 signals an output to bring the dangerous movement to a halt.
There are two systems per wrapper—one on the entry and one on the exit side.
The muting sensors are set up in front of the M4000, and behind it. They are inputs to the muting module. The UE403 muting module and the M4000 talk to each other via an internal CAN bus system proprietary to Sick.
Because the new Sick system is resistant to electromagnetic interference, the problem with false trips was eliminated. The M4000 can be adjusted to compensate for shrinkwrap reflectivity and for gaps in the pallet load.
"The controls are very flexible, allowing the load to stop in its path for an unlimited time," says William Caudill, Lantech product manager for automated product systems. "This allows us to provide a smaller footprint on our machines using light curtains."
Additionally, Caudill says Sick went "above and beyond to meet our requirements, performance, and delivery requests, bringing in engineers to work with us and find solutions.".
Companies in this article