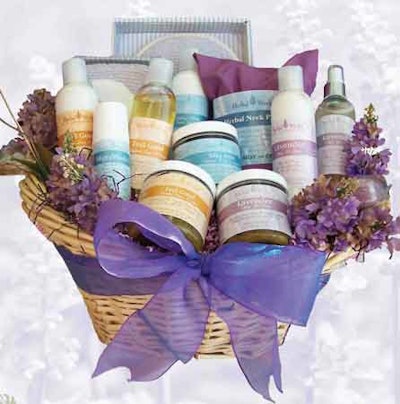 Over the years, countless, diverse companies have benefited from the wealth of information, expertise, and networking opportunities available at packaging shows. Two recent examples include Herbal Works Inc., Las Vegas, NV, a producer of all-natural bath and body lotions, oils, and sprays and aromatherapy products, and Alessi Bakery, Tampa, FL, a leading wholesale manufacturer of quality baked pastries.
This year, Pack Expo International will be held October 29-November 2, 2006, at McCormick Place, Chicago, IL. Started in 1956 under the sponsorship and management of the Packaging Machinery Manufacturers Institute (PMMI), America's largest packaging machinery and materials exhibition is celebrating its 50th anniversary of connecting packaging users with key suppliers to efficiently and cost-effectively tackle a full range of packaging challenges. Biennially, Pack Expo International is held in Chicago, with a smaller version, Pack Expo Las Vegas, held in the in-between years.
Fillers boost production, profit
When Nadia Gross, president of Herbal Works, Inc., visited the Pack Expo International show in Chicago in 2004, her company was looking for the best means of upgrading filling operations to meet growing product demand. Herbal Works products are packaged in a range of container sizes, shapes, and material structures and are sold through major retailers, spas, salons, and wellness centers throughout the United States and the world.
Manual and semi-automatic packaging operations no longer were adequate to keep pace with market demand. "All of our packaging operations at the time were basically manual, which impeded our ability to increase production," says Gross. "I knew that we needed more automated equipment to help grow our business, and Pack Expo was the perfect place to look."
After viewing the latest technologies at the show, Gross selected a VOL-A volumetric filler from KAPS-ALL Packaging Systems, Inc. (www.kapsall.com). The compact design of the fully automatic machine and its ability to accurately and economically accommodate the filling of liquid and semi-liquid products into a broad spectrum of container types and sizes were key factors in the company's buying decision. The filler's microprocessor control enables operators to quickly adjust product-fill volumes and fill rates without incurring lengthy changeover time.
To complement the new filling equipment, Gross also purchased a 48" unscrambling turntable and a 48" accumulation table from Accutek Packaging Equipment Co., Inc. (www.accutekpackaging.com) at the show. Constructed with stainless steel, the height-adjustable tables are equipped with variable-speed drives and reversible rotation functions.
According to Herbal Works, the combination of the new KAPS-ALL volumetric filler and Accutek tables has resulted in outstanding production increases-almost 20-fold. Notes Gross, "Before we attended the Pack Expo show, we were only able to produce 5ꯠ bottles of product in one month. With the Kaps-All and Accutek machinery, we now produce over 100ꯠ bottles per month. Thanks to this equipment, our business more than doubled in 2005, and it doesn't show any signs of slowing down in the near future."
Gross plans to attend Pack Expo International 2006 to conduct further research into how new packaging technologies can help Herbal Works increase production efficiencies and continue to respond to the growing market for its products. She concludes, "No other show would allow us to see so many technologies and access so much packaging expertise at once."
Labelers link to production leap
Gary Horstmann, chief operating officer of Alessi Bakery, Tampa, FL, also plans a return visit to Pack Expo, based on equipment purchasing success at the previous show. At Pack Expo International 2004, Alessi, a wholesale baked goods manufacturer, found labeling and coding machinery that helped the bakery increase productivity by approximately 25%.
A decade ago, as an increasing number of supermarkets began opening in-store bakeries, Alessi shifted its marketing focus to developing and producing finished "thaw-and-sell" baked goods for private-label use in supermarket bakeries. This marketing strategy has enabled the company to expand distribution of its products and to grow its business by 150-160% within the past six years.
Despite the rapid growth, much of the company's packaging operations continued to be manual or semi-automatic. Horstmann realized that, in order to meet growing customer demand, the bakery needed to automate packaging operations. "Our manual packaging operations could not keep pace with our growth and productivity needs," explains Horstmann. "I knew we had to equip ourselves with new, automated technology. So I decided to go to Pack Expo to do some research on what was available."
Horstmann viewed labeling and coding technologies and met with technical experts from exhibiting companies at the show. After evaluating the options, Alessi purchased a Model 630 top and bottom labeling system from Auto Labe (www.autolabe.com). The compact, fully automatic system features a split-belt conveyor with two adjustable label applicators. The versatility of the machine makes it compatible with a wide variety of product and package sizes, well-suited to accommodate Alessi's broad product range.
To further improve the bakery's packaging operations, Alessi also acquired a SmartLase® 110 laser coder from Markem Corp. (www.markem.com) at the show. The SmartLase 110 features CO2 lasers that effectively balance the need for power, safety, and flexibility, while also remaining highly cost-effective and reliable. Because of its small size and configuration, this coding system can be easily and safely installed on an extensive variety of production/packaging lines without requiring significant line modifications.
Currently, about 80% of Alessi's products are packaged using the Auto Labe labeler and Markem coder. Together, these two pieces of equipment have allowed the baked goods company to significantly increase packaging productivity, while also freeing staff from manual packaging operations.
Horstmann notes, "Technical experts from Auto Labe and Markem helped us install and fine-tune the labeling and coding equipment so it was up and running in a matter of weeks. The new machinery has not only allowed my company to use our packaging team more efficiently, but also to increase overall productivity by 25%. We have already seen a return on our investment."
Alessi Bakery currently distributes its products to supermarket chains, mass merchant clubstores, and independent retailers throughout the United States, Canada, and the Caribbean islands. Expansion to markets in the Pacific Rim, China, and other Asian regions is underway. At the 2006 show, Alessi's game plan is to seek out and evaluate the latest innovations in flow wrapping and case-erecting/sealing equipment.
Says Horstmann, "We are growing very quickly. We have to keep the technology in our production facility up to par. The Pack Expo shows are essential for my company to fulfill these needs, helping us to stay on top of all the newest technological advances that the packaging sector has to offer."
Companies in this article
Videos from All Packaging Machinery Corp.