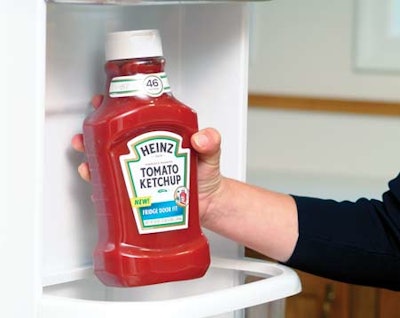 Whether it's bottles that stand on their specialty closures, humorous label copy, or easy dispensing features, Pittsburgh, PA-based H.J. Heinz continues to deliver innovative packaging that's convenient to consumers.
This summer, Heinz introduced 46-oz and 64-oz Fridge Door Fit containers, "designed as the most convenient, large-sized bottles ever," according to the company. Judges in the DuPont competition gave the package a Gold Award.
With a wide, flat top and a flip-top cap, the containers may be stored upside down, upright, or sideways. Shelf life is 15 mo. Fridge Door Fit ketchup is part of Heinz's Superior Value and Growth Plan, which includes introducing 100 new products this year. "It's easy to pour and store," says Tracey Parsons, the company's assistant manager of public relations.
Fridge Door Fit bottles are injection/stretch blow-molded of PET by Graham Packaging (www.grahampackaging.com). "Significant testing was required to attain the kid-friendly 'easy-grip' bottle form and still retain the requirements needed for distribution and display," says Parsons.
A one-piece injection-molded polypropylene closure from Seaquist (www.seaqperf.com) "features a unique 'lock back cap' that stays out of the way as the consumer enjoys the great taste of Heinz," says Parsons. "It includes the embossed Heinz logo and keystone on the cap."
Bottles include separate paper labels from Printera (www.printera.com) on the neck, and on front and back panels. "They work together to educate consumers of the new features," says Parsons.
Filling is done by Heinz at its Fremont, OH, facility, where the line required new change parts to existing equipment.
"We're putting a great deal of planning into packaging as part of our innovation strategy," says Parsons. "An important part of these containers is that they have side grips that make it easy to pick up and hold."
Consumer response, she adds, has been great for the two big bottles, which retail for $2.99 and $3.99.
—Jim Butschli
Companies in this article