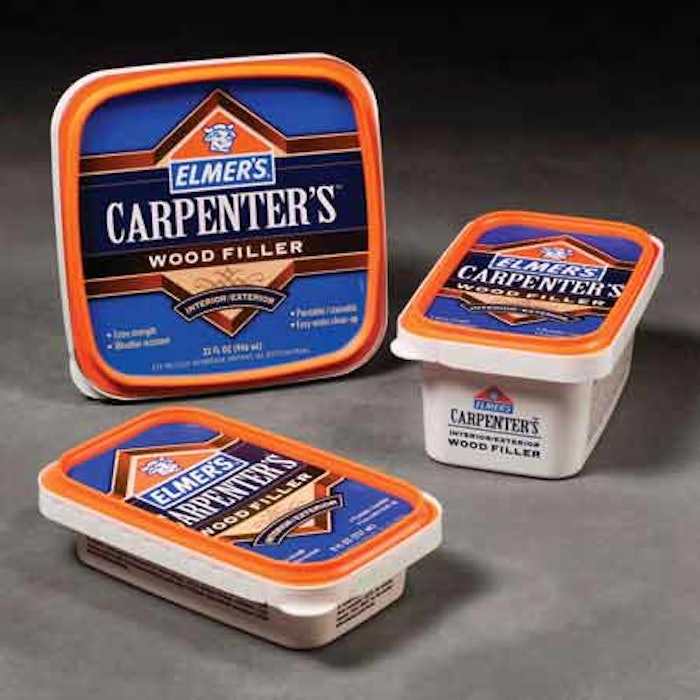 After investigating square and rectangular-shaped container concepts for about two years, Elmer's decided to use injection-molded polypropylene containers produced by IPL Packaging Inc. (www.ipl-packaging.com).
Elmer's product manager Michelle Manning notes, "We had discussed ways to efficiently produce square and rectangular containers to meet our needs. We talked about developing our own tooling in the United States, going overseas, outsourcing—there wasn't an option we didn't contemplate. Then we came across IPL. We elected to partner with IPL and move forward with the product they were offering. IPL is one of the few suppliers providing square and rectangular tub packaging that is heavy enough for industrial use and yet still provides a good value."
The new square containers incorporate 26-mil polypropylene sidewalls and 22-mil PP lids. The rectangular containers are made of 24-mil PP sidewalls and 24-mil PP lids. Product volume fills range from 8 oz to 32 oz.
Another advantage is that the containers incorporate in-mold labeling (IML). A printed PP label is placed in an open mold and held in position by vacuum ports, electrostatic attraction, and other means. The mold closes, and molten plastic resin is injected into the mold where it envelops the label and makes that label an integral part of the container. The injection-molding equipment used is from Husky Injection Molding Systems Ltd. (www.husky.ca).
Manning says, "IPL worked hand-in-hand with us to develop the label design and give us ideas on what we could do with the package to give it maximum 'stopping power' on the shelf. They even provided a person to oversee the print run with our graphics person."
She adds, "These containers do not cost significantly more to produce than the old round tubs. Beyond the initial tool and die, as well as IPL's design services, our financial investment has been more than acceptable. This has allowed us to keep the retail cost of each unit virtually the same."
IPL was able to provide a stock color that matched Elmer's trademark orange cap, and the lids incorporate IPL's Shure-Lock tamper-evident system. Elmer's is using 1⁄2-pint, pint-, and quart-size square and rectangular tubs for its filler products, and has plans to begin packaging spackle products in the containers.
Retail feedback has been positive. Manning reports, "The stores have told us that they have a much easier time stacking the product, and that the square and rectangular shapes maximize shelf-space efficiencies. Plus, the billboard effect—how effectively the label attracts customers to the product—has improved considerably."
Companies in this article